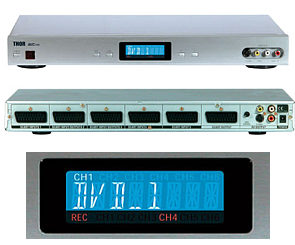 Easily the most aesthetically pleasing switch in our round-up so far, the Thor AV Control Centre is a completely superb bit of AV kit. Housed in an attractive metal chassis, measuring 47.5cm long, 25.5cm deep and 4.5cm high.
One thing to watch out for with this switch, it uses an AC power supply. If you lose your original Thor PSU and swap it out with a DC one, you will cause the switch to malfunction and give a poor, washed out image, so if that's what you are seeing, be sure to use the correct PSU!
Before we get into this review, it's worth mentioning the different models of this switch that Thor have released. There are actually two models of this switch in existence. The AVC-100/28570T we reviewed here has unfortunately been discontinued. This model has 5 SCART inputs and one output. The more common model, the HDC200, swaps 2 of the SCART inputs for 3 HDMI inputs instead (the HDMI and SCART inputs and outputs are independent, the device doesn't covert/upscale). The HDC200 is reported to have the same great picture quality as this model, so if you only need a 3 way SCART switch it is well worth considering.
the most striking thing about the Thor switch is is the super-bright LCD on the front of the unit. When I first got the switch in to review, I actually thought it was faulty. What I didn't realize was it was powered off, the LCD goes from bright to really bright when you actually power it on. The neat thing about the LCD is that it's programmable and rather than displaying which number input is selected, you can actually change it to DVD, XBOX, GAME and a number of other things. Sadly you have to pick from a number of pre-sets and you can't enter your own names for devices, but it's still a very neat feature. Note that these pre-sets, as well as the LCD clock on the unit, are lost if the unit is powered down, so keep it plugged in if you want to maintain them.
The SCART sockets on the back of the unit are all RGB enabled and the switch will work as a 5 in 1 out or 4 in 2 out switch (though I have not tested it in this mode). Over on the far right there's even a couple of analogue audio outputs so that audio can be routed directly to an amplifier, along with an S-Video output too.
Brightness/noise test:- Passed, no noticeable noise added, no noticeable brightness lost from picture.
Isolation test:- Passed, zero crosstalk from other inputs.
Conclusion:- The Thor switch is fantastic, no two ways about it. It supports every kind of signal you might want to throw down a SCART cable (including component video). Quality wise the switch is faultless. On equipment that is very noise-prone, such as component video from the PS2, the Thor outperformed other powered switches and produced an image that was almost completely noise free. Even chaining other switches from the unit resulted in no quality loss whatsoever, making this an excellent choice for a central hub in more complex switching set-ups. If I had to pick a fault with the unit, it would be that the sockets are quite close together, meaning that more bulky SCART connectors may have difficulty connecting next to each other. In practice however I don't see this being a problem for most users and the Thor is still absolutely 100% recommended.
This switch has now been tested for picture quality using a capture card, click here to see how it performed.