RetroTINK 2X SCART, the perfect no hassle plug and play solution for European gamers, is here!
No messing with complex settings, no dozens of dip switches to configure, just connect your RGB SCART* cable to the RetroTINK 2X SCART, connect a suitable power source and then plug an HDMI cable from the 2X SCART to your TV.
What does it do?
Processes (line doubles) retro games with NO input lag – Unlike other scalers, such as the XRGB Mini, the RetroTINK 2X SCART works on individual scanlines rather than a frame at a time, that means there's no input lag whatsoever (well, a few nanoseconds if you really want to be precise).
Eliminates ugly deinterlacing artefacts and bad scaling – Connect most retro consoles to your TV and if you get a picture at all, it's likely to be ugly. Bad scaling combined with deinterlacing (which should never even be applied to 240p material) will ruin the picture and make you wish you had your old CRT back. Well, worry no more! RetroTINK 2X SCART converts 240p or 288p input from retro consoles into a 480p/576p image that is correctly displayed and processed. EVERY special effect, from 240p drop shadows to striped sprites, is rendered correctly.
Note that unlike its siblings, the RetroTINK 2X Classic and the RetroTINK 2X Pro, the RetroTINK 2X SCART is permanently set to line double mode and cannot pass-through the signal unaltered.
Optional scanline filter – Retro console graphics were designed to be shown on CRT televisions. When these old screens displayed the graphics, they left every other line blank, a phenomenon that is usually called "scanlines". Many people feel the graphics do not look correct without these lines, so the RetroTINK 2X SCART gives you the option to add them back into the image.
USB Powered – Power RetroTINK 2X SCART from a USB port (1 amp of current is required) or use one of our multi-region power supply units. RetroTINK 2X SCART is compatible with the same PSU as RetroTINK 2X/2X Pro.
Specifications
Video inputs: RGB SCART
Audio inputs: Audio in via SCART cable
Output: Standard HDMI
Supports standard SCART input formats (240p, 288p, 480i and 576i)
Optional scanline post-processing filter
USB firmware upgrade capability – no special tools needed
*Important – RetroTINK 2X SCART supports RGB SCART cables only!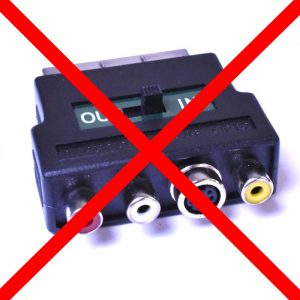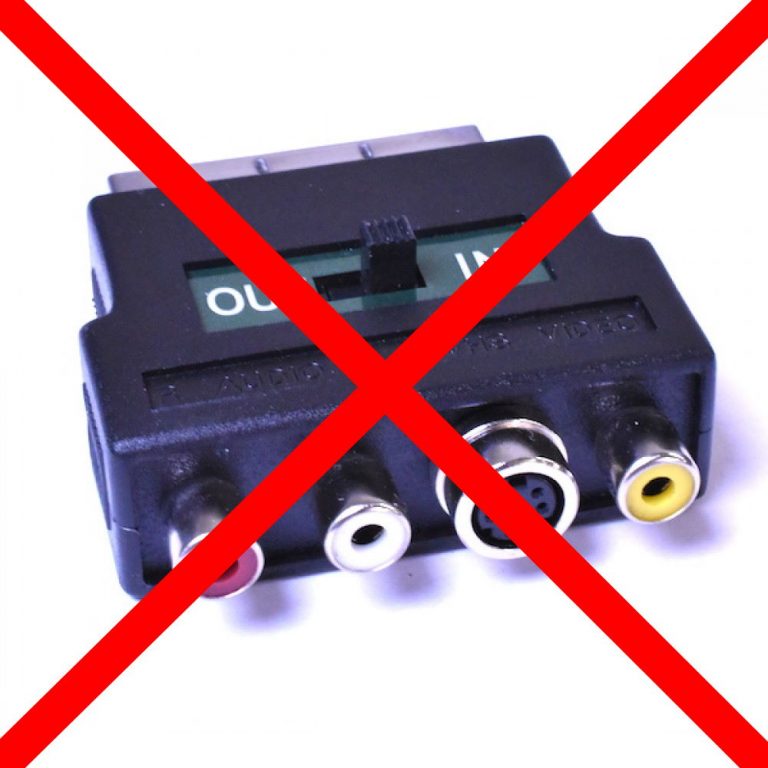 Please ensure the cables you use with the RetroTINK 2X SCART are fully wired RGB SCART cables. You cannot use composite video cables or S-Video cables.
If you are uncertain, check with your supplier.
Adapters such as the one shown on the right will NOT work with the RetroTINK 2X SCART.
Documentation, support and returns
In addition to the standard 1 year EU warranty, we're also giving a one-month no quibble return for all units. Test the RetroTINK 2X Pro in your setup and if it doesn't work, return it to us for a full refund. All we ask is that you pay return postage and send the complete unit and any accessories undamaged. Contact us here if you need to return a unit.