All our RetroTINK 2X units now ship with updated firmware to fix compatibility issues with the Commodore 64/128 computers.
RetroTINK 2X units feature the latest firmware with PAL60 support and small hardware improvements to audio handling and to prevent picture loss during bright scenes.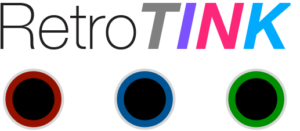 RetroTINK 2X is an affordable composite, S-Video, component video and analogue audio to HDMI transcoder/converter designed by Mike Chi. Finally, you can connect your composite or S-Video only systems to your HDTV and enjoy the best possible picture quality from those legacy connections. No more bad deinterlacing, no more 240p incompatibilities.
What does it do?
Processes (line doubles) retro games with NO input lag – Unlike other scalers, such as the XRGB Mini, the RetroTINK 2X works on individual scanlines rather than a frame at a time, that means there's no input lag whatsoever (well, a few nanoseconds if you really want to be precise).
Eliminates ugly deinterlacing artefacts and bad scaling – Connect most retro consoles to your TV and if you get a picture at all, it's likely to be ugly. Bad scaling combined with deinterlacing (which should never even be applied to 240p material) will ruin the picture and make you wish you had your old CRT back. Well, worry no more! RetroTINK 2X converts the image into a 480p image that is correctly displayed and processed. EVERY special effect, from 240p drop shadows to striped sprites, is rendered correctly. You can even apply a smoothing filter to smooth out those jaggy edges, if you like.
Supports composite and S-Video – Unlike OSSC, RetroTINK 2X supports composite and S-Video as well as component video (RGB video is not supported on the RetroTINK 2X). This allows a much wider range of legacy computer and games console equipment to be used with the unit.
Functions as a transcoder too – RetroTINK 2X can function as a composite, S-Video or component video to HDMI transcoder. Pair the device with a suitable HDMI to VGA adapter and use it with your legacy 15khz displays or with a secondary scaler such as the OSSC.
USB Powered – Power RetroTINK 2X from a USB port (1 amp of current is required) or use one of our multi-region power supply units.
Specifications
Video inputs: Component, S-video and composite
Supported video formats: 240p/480i, 288i/576i, NTSC and PAL colour
Video sync recovery and regeneration for non-standard sources (e.g., SNES)
Output: MiniHDMI at 480p/576p (line-doubled mode) or input resolution (pass-through mode)
Audio: RCA analogue stereo input, 24-bit stereo output
Power: MicroUSB 5 volts
Ultra-low latency line doubling: less than 5 scanlines (83 micro seconds)
Optional smoothing filter
Plexi-glass enclosure
Documentation, support and returns
In addition to the standard 1 year EU warranty, we're also giving a one-month no quibble return for all units. Test the RetroTINK 2X in your setup and if it doesn't work, return it to us for a full refund. All we ask is that you pay return postage and send the complete unit and any accessories undamaged. Contact us here if you need to return a unit.
What are other people saying?
Don't take our word for it, check out these other reviews around the web.