Available now (handled by our partners BetaGamma Computing in Greece). Please allow for shipping and processing delays due to Covid 19 and a recent cyber attack on the Greek post office. Please note that we can no longer accept mod/repair orders from UK customers (except NI).
All repair/modification work is carried out subject to our terms and conditions. Once you have placed your order, details of where to ship your hardware will be sent to your e-mail address. Prices do NOT include return postage. To estimate return postage we recommend Parcel2Go. Parcels will be returned by Royal Mail or UPS only.
Make your Sega Master System Mark 1 console into a fully region free console without ugly external switches! The switchless region free mod allows you to set region and choose between 50hz and 60hz modes all by pressing the reset switch. To operate the mod, simply hold the reset switch down for the required time.
Less than 0.5 seconds – Resets the console as normal.
0.5 seconds to 1.5 seconds (until power LED is extinguished) – Change between 50hz and 60hz modes.
More than 1.5 seconds – Change region.
The LED will flash and change colour indicating the region. Simply let go once the correct region is selected (actual LED colours may vary).
Note:- We strongly recommend playing your Sega Master System console using an RGB cable. On some televisions, import games may appear in black and white when using composite or S-Video connections.
This mod is for the Mark 1 Sega Master System only, as pictured below.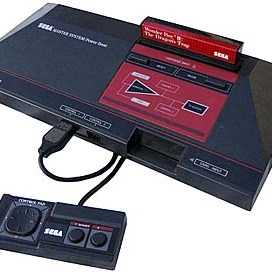 Due to minuscule differences in video timings between PAL and NTSC consoles, users connecting modified PAL consoles to HDTVs (either directly or via an upscaler such as an XRGB) may experience stuttering/juddering during scrolling in games when playing in 60hz. This is not a fault with our modding process (we're just the only website honest enough to tell you it could happen). This does not affect CRT users, see this page for more information.