All boards are shipping with the latest firmware.
The Wii was (and still is) an amazing console with a huge library of amazing games in lots of different genres. Rather than try to compete with Microsoft or Sony, Nintendo designed the Wii to be as cheap and cheerful as possible. Unfortunately, that means its video output options were limited to a rather sub-par component video at best, that is until now.
Wii Dual is the ultimate AV upgrade for your classic Nintendo Wii console (RVL-CPU-40 revisions and later). Set your Wii free on your modern HDTV or classic high end CRT monitor with this all in one solution. WiiDual adds the following features to your classic console:-
HDMI output – Full HDMI output including audio, with optional line doubling of 240p/480i sources and optional scanlines. Note that WiiDual uses a Mini HDMI port.
Full analogue output – Output ANY Wii resolution via the standard analogue port. Need 480p via SCART for your OSSC or XRGB Mini? No problem! It's also possible to get RGB output for NTSC consoles.
Analogue and digital output active at the same time – Stream via HDMI while you game lag-free on your CRT like a pro. Note that the same resolution will be output on both analogue and digital at all times.
OSD control – Access WiiDual's settings from a convenient OSD which works via a standard Gamecube controller or by means of a universal remote control. To activate the OSD, hold the L, R, X and Y buttons down until the menu appears.
The Nintendo Wii WiiDual upgrade sets your Wii free with a fully digital HDMI output port that supports both video and audio. All Wii screen modes are supported, 240p/288p can be line-doubled to 480p/576p for full HDMI compatibility, while interlace modes can be either line doubled or sent directly to the display. All line-doubling is done on the fly, there's no frame buffer and therefore no input lag.
Some thought it would never happen, given the famously compact nature of the Wii console, but our friends over at Black Dog Technology have proved everyone wrong!
To learn more about this fantastic mod, check out retroRGB's extensive video review here:-
In order for your Wii to be compatible with this mod, it MUST be a RVL-CPU-40 revision or later. Specifically, the following motherboard revisions are supported:-
RVL-CPU-40
RVL-CPU-50
RVL-CPU-60
RVK-CPU-01 (No Gamecube Ports)
RVK-CPU-02 (No Gamecube Ports)
To determine which revision you have please see the image below (click or tap the picture to enlarge it).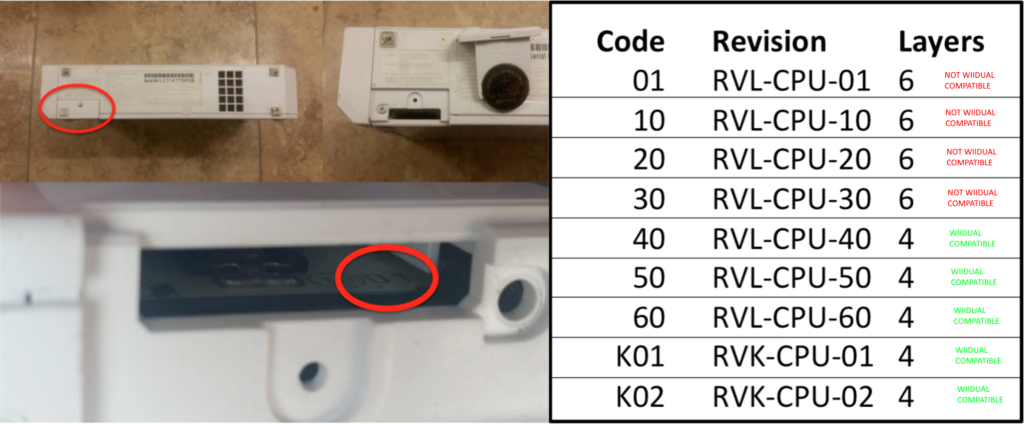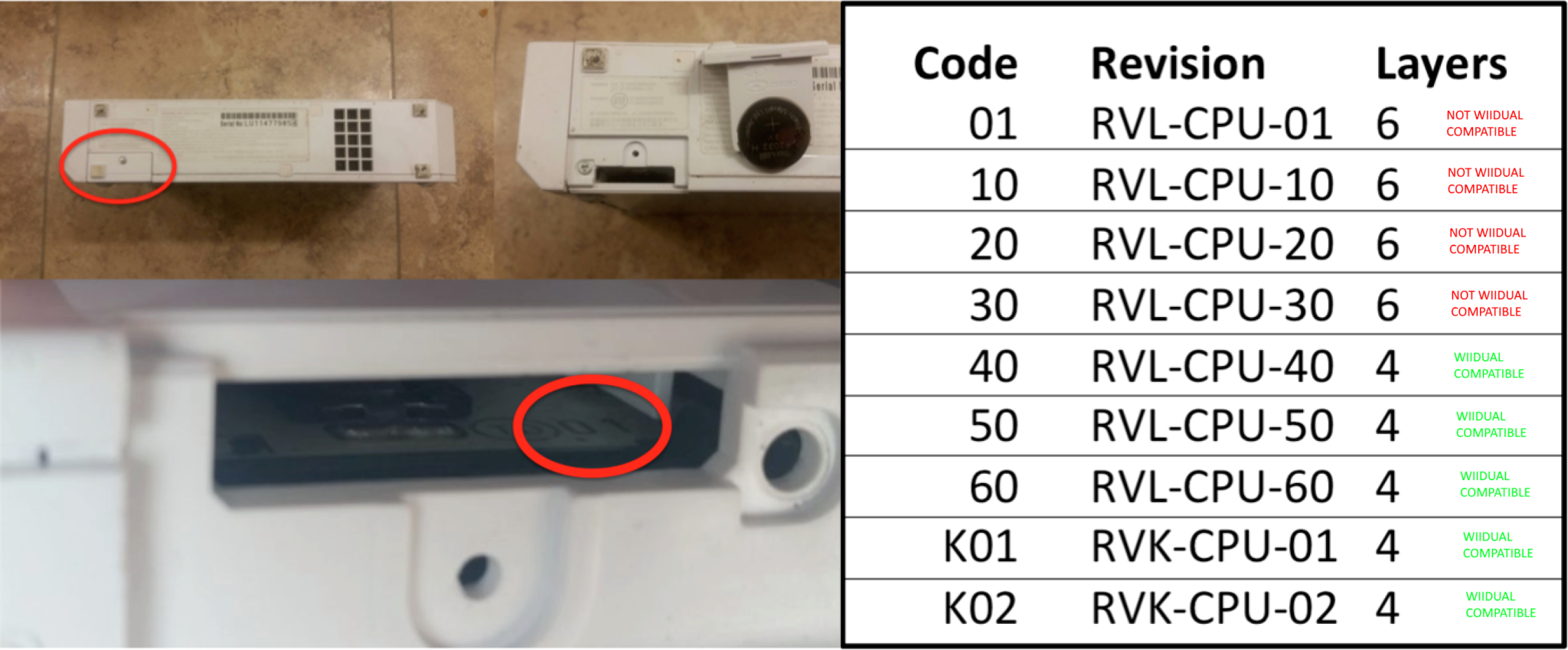 This mod provides audio and video through the HDMI cable, but a very small number of HDTVs may be incompatible with audio/video mode. In this case, audio can be disabled through HDMI and routed through the consoles analogue output to a suitable receiver as normal.
Fitting instructions
Please note this is not an easy modification to fit. Do NOT order this kit until you have read ALL of the fitting instructions and feel confident with carrying out the installation. Some community based support may be available in our forums but we CANNOT offer technical support with DIY fittings nor can we give refunds on components that have been damaged or destroyed due to incorrect use or failed installation attempts.
For fitting Instructions – click here.
If you need your WiiDual professionally installing, click here.
Nintendo and Wii are trademarks of Nintendo Co., Ltd. WiiDual is NOT an official Nintendo product.