This page is dedicated to all things X-Arcade. For all the official adapters and for technical support, your first port of call should be X-Gamings website. X-Gaming don't officially support retro consoles, so I've put up the quick reference sheets I made for my retro consoles as well as others that should be compatible. If you see a mistake please do let me know in the comments.
Hacking Tototek's adaptors?
As you will see from some of the layouts, it's unfortunate that they are not all ideal. As I was compiling the layouts, it did occur to me that changing the Tototek adapter button mappings might be as easy as simply changing a wire around inside the adapter. If anyone has tried this please do get in touch!
Now for the button mapping reference sheets, click on each picture for the full-size version. Each layout is using the X-Arcade to PS2 adapter then connected to the specific PS2 to retro adapter.
3DO
Untested due to no access to the console.
Amiga, Atari, C64 and other DB9 Computers
This one isn't using a Tototek adapter, instead, it uses Paul Worthington/Kipper2k's DB9 joystick adapters. Unfortunately these adapters seem extremely difficult to get hold of now.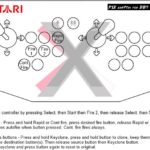 Amiga CD32
Using the DB9 adapter discussed above.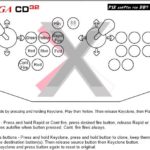 Famicom
An unfortunate button layout for the Famicom, which doesn't place A and B next to each other.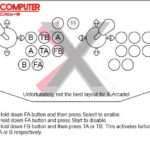 Genesis/Megadrive
The Tototek adaptor supports the full 6 button pad. Remapping controls within the game might be necessary of course.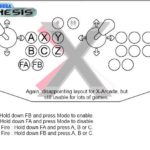 Neo Geo
Again not an optimal layout nevertheless still usable for many games. A re-mapped hacked version of this layout would be very welcome.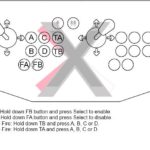 PC Engine
Another imperfect mapping but still usable on many games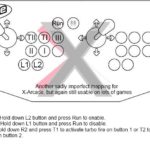 Sega Saturn
Luckily for us most Saturn games allow buttons to be remapped. Street Fighter Alpha 3 plays very well on the X-Arcade ultimate with the appropriate re-mappings!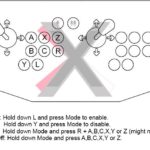 SNES/Super Famicom
layout works for the majority of shooters that allow controls to be remapped, it's not so comfy for Mario and the likes.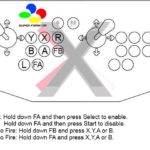 Back from X-Arcade Reference Page to Home Page