[widgets_on_pages]For those of us who love our videogames, collecting and preserving our own collections is all part of the fun of being a gamer. If you love looking over your hoard of mint condition SNES or Genesis cartridges on your shelf, you probably enjoy cataloging your collection too. Up until recently, my own personal gaming collection was catalogued in a simple OpenOffice spreadsheet. I'd tried various game cataloging tools before, but they always had some significant shortcomings that eventually dissuaded me from purchasing them. All that has changed since I tried Game Collector 5.1.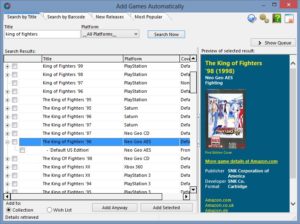 Game Collector is available for both PC and Mac, with a special mobile edition available for all you hip-cats with your Android and iOS devices too. This review will focus on the Windows version. Using the software is quite straightforward, there are several ways to start cataloguing your games. If you already have a list in Excel or OpenOffice, you can export the data to a CSV (comma separated) text file and then import it into Game Collector. If you're starting from scratch cataloguing a very big collection, Game Collector supports various barcode scanners, including one for the iPhone and Android phones. Finally, you can of course add a game manually. Game Collector links to the Collectorz.com database which contains thousands of games across virtually all formats. If a game is found in the database, the program will automatically download information about the title, including release dates and developer information. For games that aren't found this information can be added manually, the program will even automatically do a Google image search for cover artwork. In practice the software found around 80% or more of my games in its online database and manually adding the rest was relatively painless. Game collector also has a facility for cataloguing your hardware too.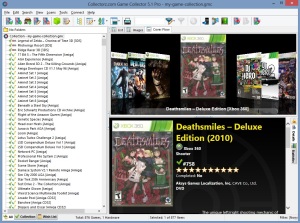 Once your games are neatly catalogued, you can view them by platform, genre, developer or a number of other criteria. You can mark completed games, enter details of what condition the game and the packaging is in and even manage loans. If your collection is particularly gargantuan, you can even make a note of which room your game is in, very handy when you want to tell your butler the spare copy of Metal Slug AES is in the drawing room. One feature many users may find quite useful is the option to catalogue and search for multi-player games. If you have friends over, you can then quickly bring up a list of all your multi-player games while you decide what to play. Game collector also has a "Cover Flow" mode, just like iTunes, where you can dote over your game collection in all its glory and show it off to your friends, though navigating in this mode can be a little slow with bigger collections.
Speaking of showing off, if you pay for the professional version of Game Collector, you also receive a lifetime subscription to Game Collector Connect. This service publishes your games list online, where you can share it with your friends or access it anywhere you have an internet connection. Ever been to a charity shop or garage/car boot sale and forgotten if you owned a game? Whip out your smartphone and check using Collector Connect. Want to compare game collections with a friend? Simply send them a URL and you're all set.
Game Collector is one of those essential tools every videogame collector should have on his or her computer. It makes cataloguing your games almost as much fun as collecting them in the first place. With powerful features like barcode scanning and the excellent Game Collector Connect service, the program will suit even the most dedicated, hardcore videogame hoarders. Check it out now by using this link.