[widgets_on_pages]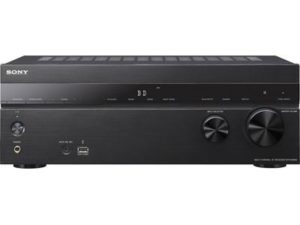 Another contender for the perfect home theatre receiver for the enthusiast videogamer, the Sony STR-DN840 is a mid-range home theatre unit from Sony. While its selection of inputs isn't as impressive as the Azur 540R we reviewed last year, it still has enough inputs to satisfy most gamers and so is a good contender for a games room. Now selling for £299.95 from UK Hi-Fi specialist Richer Sounds, the STR-DN840 is much more affordable than the Cambridge Audio unit too. The unit has received favourable reviews elsewhere on the web, but will it stand up to the kinds of intense scrutiny a dedicated video gamer demands? Read on to find out.
First impressions
While far from ugly, the Sony unit certainly doesn't stand out from the crowd aesthetically. Close your eyes and imagine a piece of modern hi-fi equipment in black and you have pretty much envisioned this unit. At around 16cm high, the unit is taller than some competing models, but at 33cm deep, more shallow than others. At the back, you get three analogue audio inputs (standard RCA connectors) plus one for stereo audio from the TV. There's just one coaxial digital connector, 2 TOSLINK connectors and 6 HDMI inputs. There are no analogue RGB, S-Video or even component video inputs and outputs, though bizarrely there are two composite video inputs and one output. There's also no 7.1/7.2 direct input connection. Compared to other current home theatre systems, the Sony's connectivity is pretty average. Certainly its a step back from the excellent connectivity of the Azur 540R.
Also entirely average looking is the units remote control. The layout of the remote seems a little daunting at first, largely because it's so cluttered. After a little orientation though it works just fine. You can of course program a universal remote instead and we had no problems programming up our trusty old Philips Pronto.
Interestingly, the unit doesn't ship with a user manual at all, just a simple quick start guide which covers plugging in the speakers and initial setup. A full manual can be downloaded from the web, which really shouldn't pose a problem for anyone considering this as an amp for a games room.
Setup
With speakers connected and devices plugged in, powering on the unit for the first time will bring up the Easy Setup menu. If you were expecting Sony's slick XMB interface, like on the PS3, you will be disappointed, but the menus are easy enough to navigate and understand. From the easy setup screen you can configure speakers and networking. The unit has wired and wifi networking but since we had an ethernet cable located nearby we have only tested the unit with a wired connection.
Like most other receivers these days, there's a calibration microphone that can be used for easy, automatic setup. Simply plug this in and wait while the unit pays a range of test tones. If you're not completely satisfied with the auto calibration, speaker settings can be tweaked manually in the setup menu too. Much to our delight, the Sony unit recognised our 6.1 speaker configuration perfectly and calibrated itself accordingly. Compare this to the Cambridge unit which seems to have no proper support for 6.1 speaker configurations at all and it's not surprising that we were being won over by the Sony unit even at this early stage.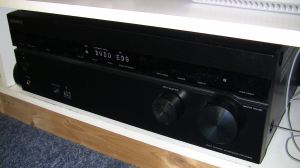 After configuring the networking settings (which were largely automatic since we used an ethernet cable) the unit told us that an updated firmware was available. Opting to download this firmware caused the receiver to sit downloading and configuring itself for an alarming 30 minutes or more. After the first quarter of an hour many users (ourselves included) may start to panic and wonder if anything is actually happening, but eventually the firmware update did complete just fine.
Before you start using the unit you will probably want to set the input options, this can be done by pressing the Home button on the remote and then choosing Settings->Input Settings. Here the Sony receiver could have benefited by being a little more flexible. While the optical and coax audio inputs can be assigned to any of the HDMI inputs, the analogue inputs cannot be reassigned at all. Realistically, this is only a problem for those of us with the most complex of setups, but it's still a shame that it couldn't work better.
With basic configuration complete, it's time to test some audio. Just as with our Cambridge Audio contender, the unit was paired with a set of Tannoy EFX speakers in a 6.1 configuration (3 front 3 back) and a single Tannoy Subwoofer.
Analogue performance
For testing analogue performance, we used Secret Of Mana on the SNES, Apidya on the Amiga as well as various other retro game titles. Analogue audio quality may not be what home theatre systems are renowned for, but analogue quality on this unit will suit all but the very most demanding of audiophiles. Music on the SNES was lively and chirpy and authentic sounding, while the Amiga's famous Paula chip was certainly done no disservice. Like most surround sound receivers, you can play your stereo material just out of the front left and right speakers or use several modes to play the audio through the surround speakers too. Sadly, there doesn't seem to be a mode on the unit to play stereo through just the left and right speakers, but with bass redirected to the subwoofer. This limits you to choosing "Multi Stereo" which pushes the audio through the surround sound speakers too, or either the Pro Logic or DTS Neo 6 modes. Realistically if you only have limited range speakers you are going to want to use the subwoofer for 2 channel content, so the lack of a stereo plus subwoofer mode is disappointing, though the Pro Logic and DTS modes work well enough.
There are four different Pro Logic 2 modes (six if you count the 'height' modes, which we didn't test due to not having a compatible speaker setup) and two DTS modes. Like competing receivers, there are also various other 'novelty' sound conversion modes such as "Jazz Club", "Concertgebouw" and "Stadium". Just like competing receivers, you are unlikely to ever use these more than once. Listening modes can be selected on the remote or selected from a menu by using the on-screen display.
For mono systems like the NES or the C64, you might require a special cable to get the most out of the audio. Using a C64 S-Video SCART cable that sent the machines mono signal to both stereo left and right resulted in a lively, fun SID playback experience.
While analogue audio playback was excellent, overall we'd have to say that we prefer the analogue audio quality of more expensive receivers like the Cambridge Audio unit. However, the difference in performance here is minimal at best. It's just a shame Sony neglected to include a stereo plus subwoofer mode. Remember that if you play a lot of analogue stereo material you can always add a dedicated analogue audio amp to your setup and this is typically what audiophile magazines and websites will recommend, though obviously doing so means adding in more complexity and wiring.
Optical and SPDIF performance
Like before, for testing Dolby Digital decoding we used an Xbox and an Xbox 360. Playing the opening level of Bayonetta on the 360, with its dramatic operatic style music overlaid with the balletic witches battle cries, is a great way to test the overall decoding quality. The performance of the Sony unit with Dolby Digital was breathtaking. The rich operatic soundtrack was reproduced brilliantly, the narrators speech was crystal clear and the battle cries were never muffled by the music. Bass was also lively and exciting without being overpowering. Dolby Digital from the Xbox console was also flawless, as you might expect from a digital input.
Optical audio connections can also carry linear PCM audio (LPCM). Playback of LPCM material causes issues on many receivers, including the Cambridge Audio unit we reviewed last year. On the Sony unit however, things worked flawlessly, with no trace of the "silent streaming" bug that causes parts of the soundtrack to be lost following a period of silence in the stream. As with analogue stereo, sound quality was excellent.
HDMI performance

HDMI performance on the Sony unit was close to flawless, with just two potential caveats we will discuss in a moment. When changing screen resolutions or switching sources, HDMI handshakes (that moment where your screen blanks and comes back again) were fast and smooth and for the most part went off without any issues. DTS HD Master audio and Dolby True HD audio from Blu-rays was flawless and sounded identical to the audio from the Cambridge Audio unit. Playing the famous chase scene in the Bourne Identity is breathtaking. Every crash makes you jump from your seat, and the sound detail is fantastic, right down to the sound of broken glass hitting tarmac. Audio from PS3 games also sounds excellent. The classical style soundtrack from Super Stardust raised hairs on the back of our necks. Playing The Last Of Us with the lights down low and the surround sound on made for an incredibly immersive and intense gaming experience. Surround sound from the Wii-U was equally well handled, with no issues whatsoever during our intense Super Mario 3D World sessions over Christmas.
The unit also performed well with the PC. After several hours of Fallout New Vegas and various other games we experienced no issues with audio dropping or cutting out. Depending on what audio hardware you are using in your PC, you may need to use the AVR Audio Guard program on your PC to prevent the amplifier disconnecting from the PC when no audio is being transmitted. If like me you have a 6.1 speaker setup, you may get better results from PC (and possibly PS3) games by setting the audio output on your PC or console to 5.1 rather than 7.1 and letting the receiver do the upmixing to 6.1. Even with a 7.1 setup, keep in mind most game soundtracks are mixed for 5.1 to suit the Xbox 360 so a little experimentation here may be necessary.
So what are these caveats we discussed before? Firstly, when connecting a PC to the unit, our machine stubbornly refused to switch to 5.1 or 7.1 speaker configuration. Windows claimed that the receiver did not support anything other than Stereo. This is a common fault with Windows, which oddly gives the end-user no way to override the EDID supplied information when configuring surround sound systems. The problem is entirely fixable by using a Dr HDMI unit, as we reviewed here, though of course that adds another £56 to your bill.
Finally, we experienced occasional HDMI handshaking issues with the PC which would result in the 5.1 or 7.1 stream from the PC being processed as a 2.0 stream instead. This issue persisted until the speaker settings in Windows were changed from surround sound to stereo and then back again. In testing this only occurred when using a dedicated sound card (An Auzentech X-Fi Home theatre HD). Since most gamers will simply use the on-board audio from their GPU's these days, you are unlikely to encounter this problem.
Other features and notes
The STR-DN840 does not include any upscaling or video processing features. However, it does have a handy video overlay feature that shows the volume level and menu options over the top of the current input. The unit also has a preview feature that can show the picture from another input before switching over to it. With this kind of functionality included, we were relieved and delighted to find that the unit adds no input lag whatsoever to the video chain according to our tests with Leo's input lag tester. Several of the HDMI inputs also offer 4K video pass-through too.
Being a network connected player, the unit has all kinds of audio streaming and internet radio options. We only tested these features briefly and they seemed to work well. There's also an app you can download for most mobile operating systems if you want to control your unit from a tablet or phone. There's a radio tuner included too, but it's analogue only.
Conclusions
It seems that the praise that this unit has received from elsewhere on the web is entirely justified. Great quality analogue audio playback coupled with flawless playback of all HD formats including LPCM make this unit a great choice for anyone. Add in no input lag and no issues with silent streaming and you have a superb unit for even the most demanding videogamers too. The EDID issues on Windows and the slightly inflexible input assignment options are perhaps the only things that sour the package, but they're nothing you can't work around one way or another. If you're looking to upgrade your current system for the new wave of games consoles, the Sony STR-DN840 should definitely be on your shortlist.