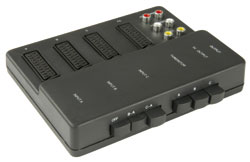 Hama's wedge shaped AV Selector 100s certainly wouldn't win any prizes for aesthetics. Offering three SCART inputs, one SCART output and two composite video and stereo audio outputs, this switch is designed with VCR users in mind. The switch offers the option of passing one of the SCART inputs over to another for recording, but of course this is useless to you when just trying to play games. Fortunately we can just ignore these features, as long as the RGB button on the far left is pushed in, we're good to go.
The buttons on the unit make a satisfying clunk when pushed and feel as if they are good quality. The audio from the composite video outputs can also be used to route to an external amplifier if necessary. Since output is via a SCART socket rather than a moulded wire, you can use any cable of your choosing with the unit and the sockets are spaced sufficiently apart that using more bulky SCART plugs will not be a problem.
Brightness/noise test:- Passed, no noticeable noise added, no noticeable brightness lost from picture.
Isolation test:- Passed, zero crosstalk from other inputs.
Conclusion:- Despite being told to avoid this switch by a poster on the Shmups forum, the AV Selector 100s actually passed all our tests easily. If placed next to your TV with cables spewing up from it, it's unlikely to please spouses or girlfriends, but performance wise there's no faulting it. It's just a shame Hama don't make a model with more inputs.