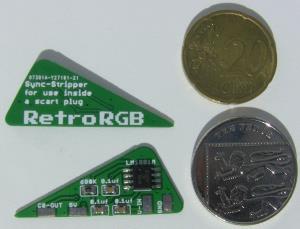 We've finally added a second product to our little store. These new Sync in SCART boards are an ideal way to convert composite video into clean sync, without the added expense and cable bulk of buying an external sync cleaner such as the Arcadeforge Sync Strike. Thanks again to our friends at RetroRGB for helping us bring this product to the market.
If you're not sure what these boards are for, you might want to check out our Gamers guide to SCART, specifically the section about types of sync. You could even watch this great little video from our friends over at My Life in Gaming, which explains the topic in some detail.
Grab yourself a sync in SCART board by visiting our store here.