With the dwindling popularity of arcades, videogaming has become something that's done typically in your home, or perhaps while out and about on your DS or your mobile phone. It's not often we get to review a videogame themed day out, so when the National Videogame Arcade opened in nearby Nottingham, naturally our excitement and curiosity levels were significantly piqued. Choosing a weekday outside of the school holidays we made the hour trip over to Nottingham and set off for the newly opened exhibit.
Shopping arcade
The National Videogame Arcade is located in the Lace Market area of Nottingham. This is a fun part of the city, with lots of independent boutique style shops and is well worth a visit on its own. Arriving at the NVA itself, the first disappointment is perhaps how sparse the first floor lobby is. With a name like the national videogame arcade, I'd hoped for something like the arcades of old, with row on row of cabinets to play. With just a handful of classic arcade cabinets available for play across the lobby and the three galleries, this isn't the "arcade" I'd imagined at all. At least the cabinets that were there had all their period features, including authentic CRT monitors.
Schoolboy errors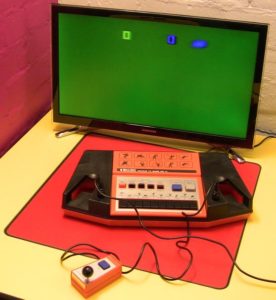 After paying our entrance fee we made our way up to the first gallery. Alarm bells started to ring almost immediately as the first exhibit that was set up was an old Binatone games console. A great museum piece, were it not for the fact it was connected to a widescreen, flat HDTV. Of course our readers will know that for a myriad of reasons HDTVs and retro consoles don't go well together (unless you have an 240p aware upscaler of course). Worse still, the console wasn't even set in the correct aspect ratio.
Sadly this theme persisted throughout the whole exhibition. The Dreamcast in the same gallery was connected to a HDTV using composite video cables and was also subject to the same undignified stretching into widescreen. With high quality VGA boxes still readily available for the Dreamcast, it's very disappointing to see a museum piece connected using the worst possible quality cables. Xbox, NES, C64, Amiga and even Neo Geo hardware was subject to this same mistreatment. The Neo Geo console, a machine many people would never have had chance to see before, looked particularly terrible as its graphics were stretched and butchered out of all proportions by the inappropriate choice of display the NVA had used. Even on the rarer occasions where CRT displays were used, they were connected using composite video cables instead of proper RGB cables.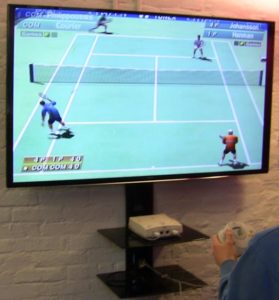 While we are, according to some people anyway,  overly pedantic on the topic of picture quality and games consoles, it's hard not to be bitterly disappointed to see a national videogame exhibition making such fundamental mistakes when connecting their exhibition pieces. Could you imagine, for instance, if you were to go to the Museum of the Moving Image, that you would ever see classic silent movies being stretched and distorted across modern widescreen televisions? This just shouldn't be acceptable for a national exhibit.
Getting hands-on
While the technical failings detailed above are difficult to excuse, the NVA does still get many things right. While there were a few pieces in glass display cabinets, including a Magnovox Oddysey that I would have dearly loved to see working, the curators certainly seemed keen that the bulk of the exhibits would be hands on and playable. On the first gallery, the game "Dash and Bash" had you rushing to press buttons under screens that corresponded to your icon. This was a lot of fun, though perhaps a bit of a health and safety hazard since passing children couldn't resist scampering across and pressing the buttons while the game was being played.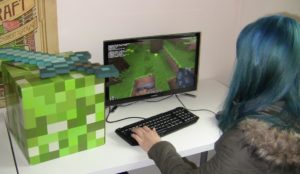 There were also rooms where you could sample the PS4, Xbox One and Wii-U. The Wii-U running Super Smash Brothers was especially popular. PC gaming was well represented too, with a room dedicated to Minecraft and another dedicated to upcoming indie titles. There were three new indie games on exhibit. One, a retro themed shooter that changed based on edits to Wikipedia was particularly playable, while the other two were more creative games and were difficult to play without investing time and sitting down to learn them.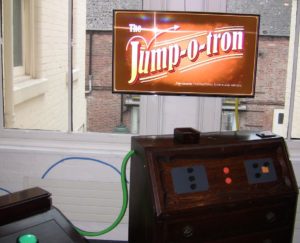 One of the most impressive exhibits was the "Jump-o-tron". This device formed part of a wider exhibition on how videogame characters jumped. Leading up to the machine was a tunnel showing different videogame characters. These characters could be made to jump by pressing the buttons underneath them. Using the mysterious "Jump-o-tron" you could then create a robot character and configure certain parameters as to how he or she jumped. To actually make your robot jump, you had to physically jump yourself. You then got to watch as your metal creation soared or stuttered across the sky. The staff member operating the machine was enthusiastic and knowledgeable and this was a fun exhibit that hopefully makes budding young games designers think about how the numbers behind the code affect the gameplay.
Elsewhere in the same exhibit, a free-running game could be controlled either by pushing a button to jump or by physically jumping yourself, making you seriously appreciate just how energetic those game characters are.
Super Sprint DIY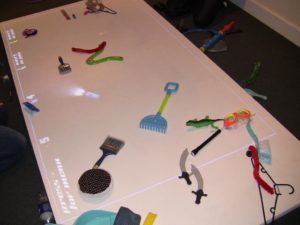 One of my favourite exhibits at the NVA had to be the augmented reality racing car game "Room Racers". Using everyday objects you could create a race course on a large table and then race cars around them, Super Sprint (top down view) style. Cleverly, the system could detect where the objects were placed so the cars could not pass through them, all the player needed to do was set up checkpoints and a start/finish line before starting the race. A clever, fun idea and one that most of us couldn't easily have in our own homes.
Another visitor, stay a while!
It's nice that the NVA encourages gamers to sit and play. There's always the feeling that in a museum you should be constantly walking around so it's good that there's plenty of opportunity to stop and just play. One area of the building had been set aside as a lounge. This had been kitted out with a huge TV and a full surround sound system, as well as a Sony PS4. The PS4 was running the awesome Rayman Legends on our visit, but disappointingly the TV (or the AV setup in general) suffered from extremely high input lag, making playing Rayman an exercise in frustration rather than fun.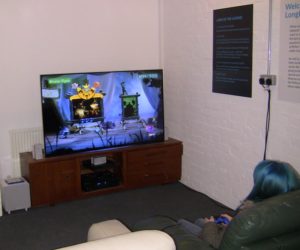 There was another similar room called the "Cinema". In this room, a huge screen was projecting the Sega Megadrive classic Streets of Rage 2, this played really well and we spent some time here playing the game rather badly. There were other consoles around the room too, mostly connected to small CRTs, though some (for instance the Sega Saturn) were not working.
Break time
The cafe area in the NVA was affectionately called the "Toast Garden". The range of food was limited to mainly toasted sandwiches and cakes and was a little expensive, but the staff were very friendly. Better still, there were several games consoles set up to play while you nibbled on your toastie. A Playstation 1 console playing Vib Ribbon was a highlight for us, prompting another welcome playthrough of the rhythm action classic. A C64 playing Commando would have been more appealing but again it was connected to a widescreen LCD which caused the games sprites to flicker and glitch during gameplay and for the graphics to be stretched out of proportion.
A solid beginning
Overall, we came away from the NVA having enjoyed our visit and feeling that it was a solid start, but disappointed at all the technical miss-steps that the curators had made. We'd certainly recommend a trip if you're within an hour or so of Nottingham, but don't feel it's quite worth making the trek from further afield just yet. Hopefully with more investment and better technical planning the facility will grow and become the world-class venue it has the potential to be.
To find out more about the National Videogame Arcade, visit Gamecity.org.