Disclaimer – We supply a fitting service for this part, so obviously it's in our interests to give it a great review. However, we've been as objective as possible and have not hidden any faults or problems we found while testing.
25/07/18 – After all this time we finally have a working board! Thanks to Dan Kunz/Black Dog Technology for the super duper GCDual.
14/11/16 – Our new version of the mod has been severely delayed while we investigate seemingly random picture noise issues.

25/03/16 – We will soon be launching a new version of this mod. The new mod features identical software, but a much neater fitting, see this page for more information.
01/02/16 – Another important update – One of our customers reports that the enhanced DVI mode does not work on the Sony KDL-40HX800 TV.
11/12/15 – Important update – Unseen has released a new firmware that fixes the problems we had when using the HDMI Gamecube on our Sony TVs.
If you want to see a video of this mod in action, click here. I've also taken some comparison screenshots that you can view here.
While we all wait with baited breath for the N64 HDMI upgrade, almost out of the blue, another classic Nintendo console has received the HDMI upgrade treatment. Nintendo's much loved sixth generation Gamecube console existed at that awkward time when EDTV and HDTV was just starting to gain market traction. Like it's main competitors the Dreamcast, PS2 and Xbox, the Gamecube ended up supporting a hotchpotch of different screen modes and AV cables. If you lived in America or Japan, you could purchase a component video cable and run most games in 480p, while users in Europe were treated as second-rate citizens by Nintendo and only given the choice of either 50hz or 60hz interlace modes. At the time, many gamers were still using 15khz CRT displays and largely ignored the digital video cables that Nintendo sold. Limited sales of the component cables has driven up the price considerably on the second hand market now that such cables and screen modes are highly desirable for modern, progressive displays. Getting the best picture out of the stock Gamecube is a matter of finding the best software and the increasingly rare hardware. Now, thanks to the new Gamecube HDMI mod, it's easier than ever before to get your Gamecube looking pristine on your new HDTV.
Kicking component to the curb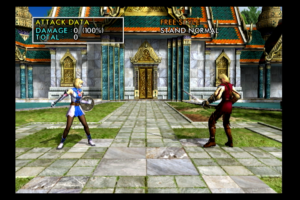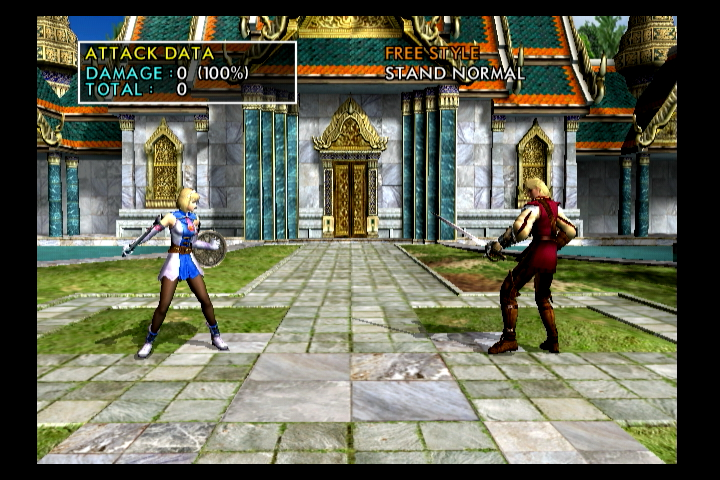 The Gamecube HDMI mod is the result of the hard work of a skilled modder and engineer who goes by the handle of Unseen. In actual fact, this mod isn't new, it was first introduced in late 2014 when Unseen announced on the Shmups forums that he had produced a working clone of the Gamecube component cable. Unseen published his work as an open source project on Github here. Since then the project has been improved upon and some fantastic features have been added, going far beyond what would be possible with the standard Gamecube component cable. The version of the mod we're reviewing here uses a standard FPGA board called the Pluto-IIx XC3S200 HDMI. This board has been flashed with some custom firmware and then installed into our test Gamecube, replacing the old "Digital" port that the component cables use to plug into. The mod is only compatible with Gamecubes that have the digital out port, so be sure to check if you're buying a second hand console to upgrade. Installation of the mod does require a small cosmetic change to the back of the unit, but of course this cannot be seen when the Cube is in normal use. Once the mod is installed, simply connect your HDMI cables and fire up your Gamecube and you're instantly treated to a fully digital version of your beloved classic console. Since the FPGA board doesn't include a frame buffer, the Gamecube's video is output in real time, with no additional input lag.
Gamecube plus
While you might be content to simply have a HDMI Gamecube, the mod goes further than just a simple analogue to digital conversion. By pressing and holding the L, R, Y and X buttons on the Gamecubes controller, you can access a configuration menu that has several interesting and useful settings. The picture below shows the settings for a 480p Gamecube game.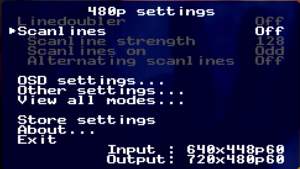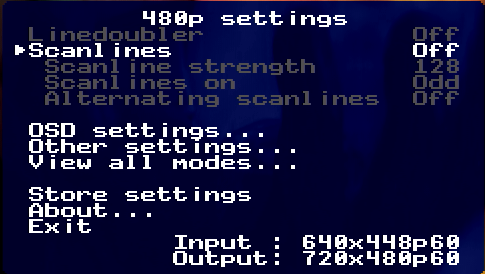 The Gamecube supports 240p, 480i and 480p (and PAL versions of those resolutions). The Gamecube HDMI mod supports all of these resolutions. 240p is automatically line doubled (since HDMI isn't usually compatible with 240p). You can also add scanlines to any resolution, allowing you to add that retro look and feel to 480p games or simply re-introduce the scanline look on a 240p title. Scanlines work great with the Gamecube player, for instance. While Gamecube games never actually had scanlines, they all run in low resolution and are a natural fit for a scanline overlay.
Things get even more interesting when we move to a 480i game.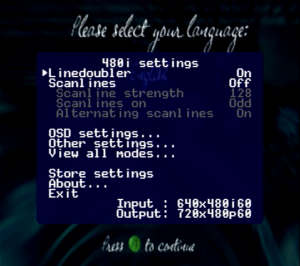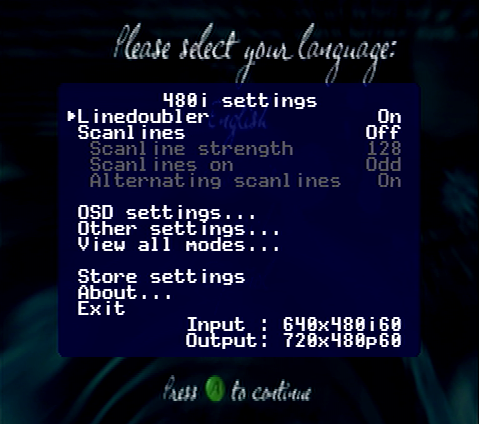 Notice the "Linedoubler" option is available for 480i games. This can be a huge advantage on modern displays. As you might be aware, feeding a 480i signal to a modern HDTV means that the image must be deinterlaced. Deinterlacing is a complex subject and there are lots of ways to go about it. Unfortunately for gamers, good quality deinterlacing introduces input lag. Modern TVs prioritise picture quality over input lag and therefore introduce several frames of lag when deinterlacing an image.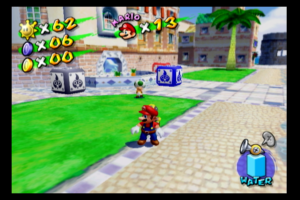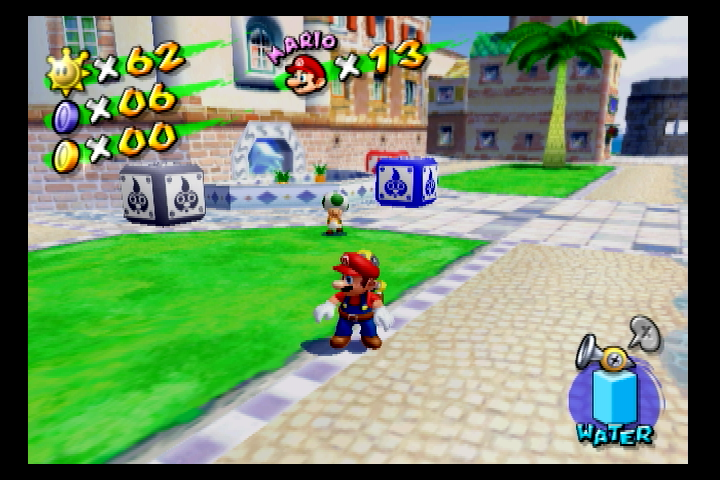 By turning on the Linedoubler function on a 480i game, the Gamecube HDMI will perform a quick deinterlace/line double that introduces no input lag whatsoever. If you've used upscalers like the XRGB3 or DVDO Edge that include similar such quick deinterlacing, you might be well aware that the image gains some flicker when in this mode. This is true here too, but the effect isn't as bad as we anticipated. It certainly depends on your display, with larger displays suffering more, but we found Mario Sunshine to be quite playable in this mode and of course the reduced input lag always helps with tricky platform games. If you prefer you can simply shut the linedouble functon off and let your TV or video processor handle the deinterlacing. There's always a trade off with interlace content and we'd recommend tracking down US versions of your games where possible, but at least now you have the choice of how to handle the interlaced image. Of course, this also makes the mod compatible with displays that can't handle 480i at all. You can save scanline, line-doubler and other settings on a per-resolution basis and the HDMI mod will remember your settings the next time you come to play any game in any particular resolution.
Digital audio too
Hidden in the "Other Settings" option on the OSD menu is a function labelled "Enhanced DVI Mode". Turn this setting ON, and the mod will route the Gamecube's audio through the HDMI cable too, effectively making this mod a digital audio mod too. We tested this functionality with several games and found it worked flawlessly with each one. Even CD audio, such as that used in games like Eternal Darkness, worked perfectly. Unfortunately it seems that enhanced DVI mode doesn't work with all displays. A small number of TVs we tested, namely the Sony KDL-40Z4500 and the Sony 32W4000 displayed a strange ripple pattern through the image whenever we used enhanced DVI mode and any progressive scan screen mode. As of December 2015, Unseen has released a new firmware that fixed the problems we had with our prototype Gamecube and our Sony TVs. We can now report 100% compatibility with all televisions we tested. All HDMI Gamecube upgrades that we sell will include this latest firmware. As of February 2016 we've had one report of a TV incompatible with enhanced DVI mode on this new firmware – A Sony KDL-40HX800.
If you are unlucky enough to find a display that is incompatible with enhanced DVI mode, you still have options. You can route the Gamecube HDMI signal through a video processor, such as the DVDO Edge, VP50 or XRGB Mini. Alternatively, since the consoles analogue video and audio output is unaffected by the mod, you can simply route the analogue audio directly to an amp or receiver using a standard Gamecube AV cable. Finally, although we didn't test this option, you can also use a HDMI or DVI audio integrator too. These boxes accept HDMI or DVI input and analogue audio input, and output a combined HDMI plus audio stream to route to your TV.
The ultimate Gamecube upgrade?
Ultimate is a word that's often abused in the English language, since it actually means "biggest, best and last". To be completely grammatically correct, you should only apply the label to something if it really is likely to be the last of its kind, since nothing could ever possibly better it. In this instance however, it's quite difficult to see what could be added to the Gamecube HDMI mod that hasn't already been included. Perhaps true upscaling to 1080p or 4k? For most people that would simply be unnecessary since modern TVs already do a good job with 480p content anyway. Being able to linedouble 240p and 480i games and add scanlines means there's little need to run your cube through an XRGB Mini or similar scaling device. What's more, unlike the increasingly difficult to find Gamecube component cables, this mod is available now. For those of you confident with DIY, check the links here and here to get started programming and installing your own FPGA board. If you prefer someone else to handle the fitting and installation, our fitting/upgrade service is now available here. However, this is a complex mod to fit, so unfortunately it isn't cheap, the price to supply the FPGA board, install and test the mod will be £167. Turnaround time is expected to be 3 to 4 weeks. While this is a little expensive, keep in mind that Gamecube component cables often retail on eBay from £80 to anywhere upwards of £240 plus shipping. As explained in the review, you're also getting a mod that performs significantly better than the Gamecube component cables do on their own. While the cost may put some off, the Gamecube HDMI mod really does deliver a fantastic upgrade for your classic Nintendo console. If you love Nintendo's diminutive little cube, this is the upgrade you need to bring it into the modern age. The HDMI mod delivers the absolute best performance from the original Gamecube hardware, another fantastic achievement by the retro-gaming community.