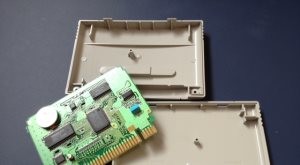 Just to let you all know we've added a few new repairs to our catalogue. We can now replace batteries in your Nintendo Gameboy and Super Nintendo/Super Famicom game cartridges. This is a simple little repair and well worth it if you want to go on enjoying games like Pokemon or Secret of Mana. If you've not backed up your SNES save games and replaced the batteries yet, it might be too late for your existing save games, but of course without the save battery you can't start a new game and save your progress either. For Gameboy games there may still be time to save your Pokemon if you hurry. If you need our help with this, drop me a note here.
Click here to learn more about the SNES save battery replacement service or here to learn more about the Gameboy save battery replacement service.
Finally, we've also added a very affordable repair for the Microsoft Xbox 360 wireless receiver for Windows. These little adapters have a bit of a design fault which makes them prone to sudden failure. If your 360 wireless receiver is no longer powering on and is no longer recognised by your PC at all, you can get it repaired for just £6 by clicking here.