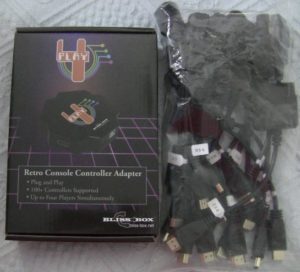 At VideogamePerfection.com, our mission is to stock the highest quality gaming gear for your PC and consoles and games room. We don't buy cheap clone consoles or cartridges and every product we stock is tested and used in our own gaming setups. To that end, it gives me great pride to announce a new product on our store today, the 4-Play controller adapter!
These amazing little adapters are ideal for anyone running emulators on their PC, Android or other USB compatible device. The 4-Play is a universal controller adapter that allows up to four people to play simultaneously, with any compatible controller. It's compatible with virtually every controller and peripheral in existence. It uses low cost adapter cables which allow controllers to plug into its HDMI-like ports. This gives you an unparalleled capacity to play with different types of controllers at once or to swap and configure controllers on the fly.
Use your favourite controller with any PC game – Want to play Shovel Knight with a real SNES pad? Now you can!
Quickly and easily connect controllers for multiplayer sessions – Crack out the laptop, your copy of Towerfall and the 4-Play. Choose any classic controller and it's game on. Doesn't matter if you prefer a Saturn controller and your friend prefers a SNES controller, you can use any combination of your choosing.
Play your emulated games with the controller they were designed for – No more clumsy mappings for N64 games, no more being told to press X when your controller doesn't have an X button. Play the game the way it was meant to be played.
Engineered by gamers for gamers, input lag minimised – Designed in the USA, the 4-Play units have been expertly designed to minimise input lag, eliminate button ghosting and other problems inherent with cheaper USB controller adapters.
These adapters are ideal for a high-end emulation rig, for playing PC games with your favourite retro controller or just for quickly and cost effectively adding controllers to your PC for local multiplayer fun.
A full review of the adapter will be coming in the next few days.
Grab yourself a 4-Play adapter here. HURRY! Our first batch is limited so get yours now before we sell out.