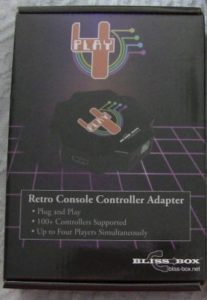 It has been a couple of months now since we started selling the 4-Play adapters. Feedback from customers has been great, but we're often asked about purchasing additional cables, or about purchasing a kit without all the included cables. What's the point of a super flexible adapter if there's no flexibility? Of course, we understand this completely, so we're now pleased to offer you the chance to buy a "barebones" 4-Play kit. The barebones kit comes with the 4-Play itself, a USB cable and 2 GameCube controller adapters and that's it.
You can now mix and match your 4-Play kit to build your ideal setup, though if you need cables from several systems, the 4-Play basic kit is still the best value. You can also add additional cables to any kit by purchasing them from the pages linked below.
We'll hopefully be adding some additional cables in future too.