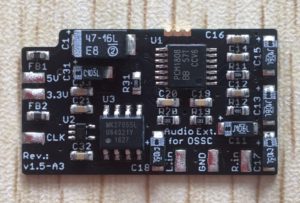 Just a quick post to let you all know we now have stock of the OSSC audio boards for DIY customers, you can grab one here.
Lack of digital audio support on the OSSC has proved to be a deal breaker for some folks and is especially troublesome considering how difficult it seems to be to get an affordable, good quality HDMI audio integrator. Now by adding this upgrade you can solve the audio issues once and for all. You can read our review of the upgrade here.
We're hoping to offer a fitting service for the part in the near future too.