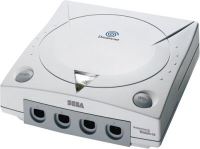 It's been a long time coming, but it seems that a Dreamcast GD-ROM emulator is now something you can actually buy. Over on the newly created GDEMU blog, DKnute is taking orders for the first batch of GD-ROM emulator boards. You can also see a video demonstrating a modified Dreamcast loading a GD-ROM from an SD card.
Surprisingly, it seems that the GDEMU project isn't the only Dreamcast GD-ROM emulator in the works either, with another model developed by OzOnE on the Assemblergames fourm also nearing completion.
It is certainly interesting times for Dreamcast owners. We will keep you updated of any further news we get regarding both of these projects.