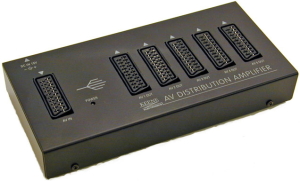 More complex gaming setups often have multiple displays, video processors or capture devices. This means that often there's a need to split one signal between several devices. Ideally of course, we want to do that without any signal degradation. While there are a number of solutions for digital/HDMI connections, in the retrogaming world where analogue RGB is king, there are unfortunately far fewer choices. If you need to split a RGB SCART signal to up to five different devices, the 1×5 SCART Distribution Amp from UK based Keene Electronics might be just what you're looking for.
Housed in a sturdy metal enclosure, the device is a simple looking slab of metal with six SCART sockets in the front. You connect your input to the first SCART socket and your outputs to the others, then connect the supplied 15 volt DC adapter to the side of the unit and plug it in. Really, it couldn't be any simpler to set up. Each SCART output is fully wired, meaning you can route RGB, S-video, composite and component signals through the device, including HDTV and EDTV component video resolutions not normally carried by SCART. Of course the device does not transcode, meaning you will need to route the signals to an appropriate device and input that can display them.
In use the device performs superbly, with no trace of signal degradation and no crosstalk from multiple inputs. In short, it just works exactly as you would expect.
At £99 plus shipping, this isn't the cheapest SCART splitter ever produced, but it is readily available and if you do need more than a couple of extra outputs then the Keene 1×5 SCART Distribution Amp is an excellent, high quality choice for your games room.
Test captures
Below are some test captures taken from a Sega Megadrive with a raw sync RGB SCART cable. They were captured using the PEXHDCAP (in YUY2 16 bit mode). They were then size-doubled using a simple nearest neighbour algorithm. The left shows the Megadrive connected directly to the capture card, the right shows if the Keene splitter makes any difference.
[image-comparator left="https://videogameperfection.com/support-files/keeneav/keen-av-amp-without-1.png" right="https://videogameperfection.com/support-files/keeneav/keen-av-amp-with-1.png"][/image-comparator]
[image-comparator left="https://videogameperfection.com/support-files/keeneav/keen-av-amp-without-2.png" right="https://videogameperfection.com/support-files/keeneav/keen-av-amp-with-2.png"][/image-comparator]
[image-comparator left="https://videogameperfection.com/support-files/keeneav/keen-av-amp-without-3.png" right="https://videogameperfection.com/support-files/keeneav/keen-av-amp-with-3.png"][/image-comparator]