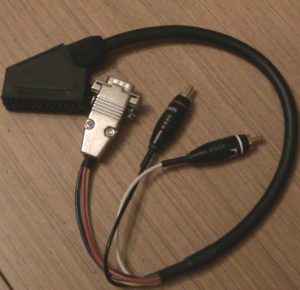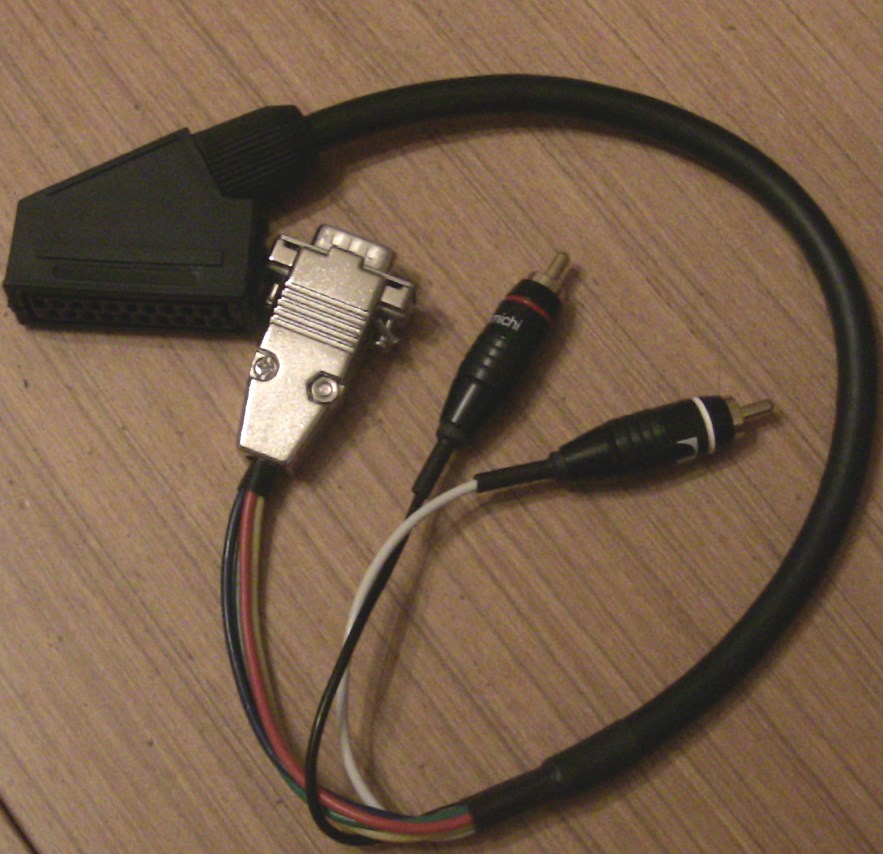 This cable is the result of a project we've worked on with the guys over at Retrogamingcables.co.uk. It's intended to solve one problem in particular, connecting SCART equipment to the Extron RGB interfaces. There are a number of SCART to RGB cables on the market but in our experience they have been rather hit and miss, and e-mailing the sellers and asking about what pins are connected where usually gets you nowhere. Now there's no need to take pot-luck on a cable any more, simply order this one.
The cable has a SCART female socket on one end, allowing you to easily connect any RGB SCART cable. The other end has a D-Sub 15 (VGA) connector and 2 x RCA/phono connectors for audio. Typically most Extron RGB interfaces either don't support audio or have a 3.5mm audio input and a phoenix connector for audio output. We imagine that most users would simply use the 2 RCA connectors to route the audio around the Extron interface. Built into the SCART end of the cable is a sync stripper. Extron interfaces require a clean sync signal and will not accept composite video or luma for sync, so having this sync cleaner built in is very convenient. You will have to ensure your SCART cables are properly wired and provide 5 to 12 volts on pin 8, but most cables should do this anyway.
So why would you want to connect your consoles to an Extron interface? There are a number of reasons, most of which we cover in this article. Typically people use the Extron RGB interfaces for their centering controls. Many gamers have seen how connecting RGB equipment to certain monitors or TVs results in an image that is shifted off in one direction or another. Using the controls on the front of many Extron interfaces, the image can be shifted back into position (though care must be taken as over-adjusting can cause other problems such as noise on the picture or loss of brightness).
The Extron interfaces can also be used to convert between RGsB (RGB with sync on green) and RGBs or RGBHV (RGB with composite sync or separate sync). The Playstation 2 for instance outputs an RGsB  signal when outputting 480p in RGB mode, as we discussed in this article. We tested the cable with our Playstation 2 console and it worked perfectly. Not only was the picture quality great, the cabling was vastly simplified with no need for an expensive sync cleaner, such as the Sync Strike, in the chain.
Internally the cable is well made, the sync cleaner is completely shielded and the cable is shielded and grounded. The RCA connectors are high quality branded connectors too.
If you're looking to get an Extron interface, keep in mind that they output RGB and sync to 4 or 5 BNC cables, so you may need some sort of cable solution to connect back to your display or processor. If you intend to connect from your Extron interface into an XRGB, you can buy a cable such as this one. That cable will work on many CRTs too, but remember it does not supply the signal voltage on pin 7. Some TVs require this to be present or they will not switch to RGB mode. In this case you will unfortunately need to use something like the Arcadeforge UMSA and a BNC to VGA cable.
Other Uses
Of course, you're not limited to using this cable with Extron RGB interfaces. One other potential application is with the Startech PEXHDCAP capture card we reviewed some time ago. The cable makes for an easy, convenient way to connect SCART sources directly into the card and the picture quality was exactly the same as when using the Arcadeforge Sync Strike.
Overall then this is a great little solution for easily and neatly adding an Extron RGB interface to your gaming setup, taking much of the headache and clutter out of connecting said interface up. At £29.99 the price is similar to the entry-level Sync Strike, but of course this cable is fully encased (a case for the sync strike will set you back another 10 euros) and connects to an Extron interface without any additional cabling. Retro Gaming Cables have delivered another high quality product for the retro gaming community.
The cable is available to purchase now from this page.