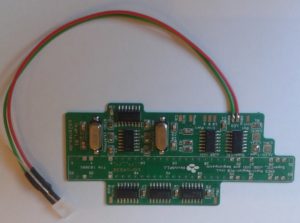 Fancy a region free Super Nintendo/Super Famicom console?, of course you do! With the latest and greatest SuperCIC board you can load any game from any region on any SNES console (European and Japanese consoles require cartridge slot widening to accommodate US games). Play compatible PAL titles in 60hz or have the SuperCIC automatically detect the region and change on the fly. With these very latest SuperCIC boards you can even control all settings from your Joypad. That's right, you can switch 50/60hz on the fly simply by holding down a button combination on your joypad, how awesome is that?!
We have SuperCIC boards in stock now for 2-chip and 1-chip consoles. For those of you who want to DIY, the boards are priced at £29.00 for the 2-chip version and £30 for the 1-chip version. We also have a special offer on fitting, you can get either part fitted for just £12.20. So that's £41.20 to supply and fit the 2-chip version or £42.20 to supply and fit the 1-chip version.
Get your DIY fit SuperCIC here, or order the fitting service here. There's not many days left until Christmas, so we can't guarantee installations in time for the 25th, but DIY parts should still turn up in time.