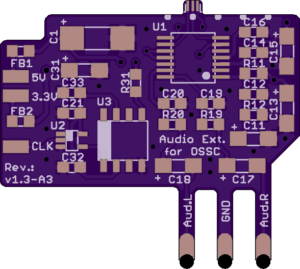 We've got a very small trial run of the OSSC audio upgrade boards in stock for anyone looking to send in their OSSC and have it upgraded. The stock OSSC hardware does not output digital audio, but by adding this upgrade you can make the OSSC output both audio and video, which is ideal for TVs or monitors that don't have external speakers.
You can grab your upgrade (which includes digital audio board and fitting) by visiting this page. This is an introductory service and the price is likely to rise in the future, so don't delay.
Please note this particular service is only compatible with the V1.5 OSSC as pictured below. The V1.5 OSSC has a black case while the earlier 1.3 prototypes had a transparent case.