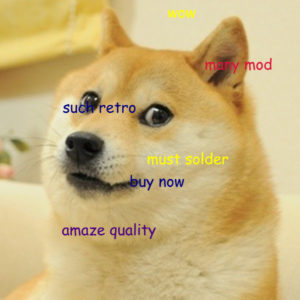 Just a quick announcement to say we've added even more mods to the catalogue now. You can now order the following mod services for your classic consoles and computers.
Firstly, for the Amiga line of computers and consoles
Amiga CD32 capacitor replacement Service
Amiga A1200 Capacitor Replacement Service
Amiga CD32 Laser Replacement
For the Sega Game Gear, we can now fix the dull screen/bad sound problem
Sega Game Gear Capacitor Replacement Service

For the Sega Megadrive, we can now replace the machines capacitors if necessary
Sega Megadrive Capacitor Replacement Service
Finally, for the Atari Jaguar, we now offer these additional services
Atari Jaguar CD Unit Repair/Laser Replacement
Atari Jaguar Capacitor Replacement Service
Atari Jaguar no Power Repair
There's more to come too! We will be adding some more services over the next few days and after Christmas, so keep an eye on our social media feed.