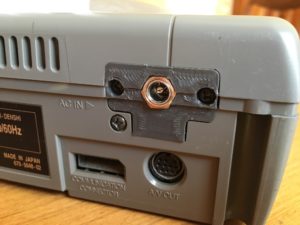 12/03/21 – Based on expert analysis of a broken Dreamcast equipped with the PicoPSU kit supplied by retrosales.com.au we no longer recommend this model. For the Dreamcast, please use the Pico Dreamcast kit available here. For Saturn, watch this space. Alternatively, simply contact us about having your existing PSU re-capped. There's no real reason to replace a Saturn/Dreamcast PSU unless you have specific requirements.
The Dreamcast and Saturn are two beloved Sega consoles that have both had exciting optical drive emulator devices developed for them. These devices replace the old optical drive with an interface that enables the console to load games directly from more modern media, such as USB sticks or flash memory cards. All of these devices that are currently available require that the original optical drive is removed from the machine and replaced with the emulation device.
One unexpected side effect of removing the old spinning plastic disc was that the original power supplies began to get a little hot. With no CD motor to feed, these old design power supplies tended to put out a lot of waste heat. Particularly in the case of the Dreamcast where the console could become alarmingly hot after a longer gaming session.
One solution to this problem is to simply replace the power supply with something more modern. The retro gaming enthusiasts over at retrosales.com.au have done just that, providing a kit for a PicoPSU to be installed in either the Saturn or the Dreamcast. A PicoPSU is a standard PC power supply designed for small or low powered systems. We have been using both of these kits for several months now and in this review we'll take a look at how we got on.
Peeking at the Pico
Both the Saturn and Dreamcast PicoPSU kits come from retrosales.com.au with all the necessary connecting cables, a 120 and 240 volt power adapter and a 3D printed replacement plastic cover for the old power cable outlet. The 3D printed components are available in various colours to match your consoles shell. Like most 3D printed parts, the plastic can look a little rough, but you would have to be pretty obsessive to complain about such a small piece of plastic located at the back of the device. Compared to the consoles existing internal power supply, the PicoPSU is tiny, but don't forget the original Dreamcast and Saturn power supplies did all the AC/DC conversion inside the console too. With the Pico, an external AC/DC transformer is required, which might not be good news if your setup is already cluttered with power bricks.
Installation of the unit is fairly straightforward as long as you have reasonable soldering skills. While not a beginner project, most of you who have some experience with console modding should not find it hard. A full video tutorial for the fitting is available here so you can see what you might be getting into before you order. Naturally, we can arrange to fit the kit for you if you supply both console and kit, just contact us here to discuss this.
Pico Performance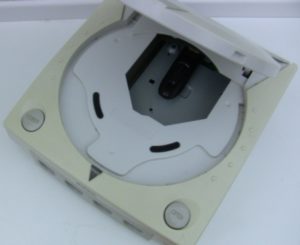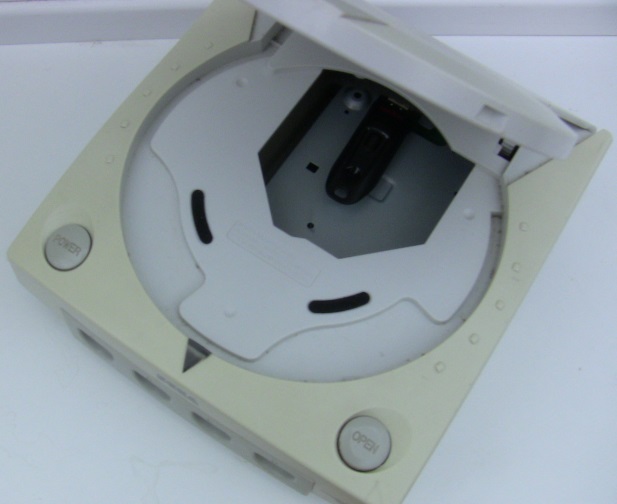 Does installing the PicoPSU result in a significant reduction in the consoles temperature? Certainly for the Dreamcast this does appear to be the case. On our USB-GDROM equipped machine, the plastic surrounding the old CD tray became noticeably cooler to the touch even after an extended play session. On our Saturn, equipped with a Rhea optical drive emulator, overheating seemed to be less of an issue in the first place, but the PicoPSU certainly didn't appear to have any ill effects either.
After installing the Dreamcast version of the mod we noticed something a little unusual with the behaviour of the console. As the Dreamcast doesn't have a reset button, it is sometimes necessary to power cycle the unit in order to reset it. With the recommended installation of the PicoPSU, it wasn't possible to turn the Dreamcast off and on again without waiting a few seconds between cycles. On the Saturn this isn't even a problem because the device has a reset switch, but on the Dreamcast it can be frustrating. Luckily there is an easy fix. Rather than connecting the consoles power switch in series with the power supply feeding the PicoPSU, connect it instead to pins 15 and 16 on the Pico. By doing this the unit performed flawlessly, just like a stock Dreamcast PSU.
If you have both a Saturn and a Dreamcast in your setup, here is a little trick you can use to reduce clutter with the PicoPSU's. Rather than feeding each one from its own AC/DC PSU unit, use a simple DC splitter cable like this and then a DC extension cable if necessary. You can then run both consoles from the same power supply with no cable swapping. We do not recommend using the Saturn and Dreamcast at the same time in this setup, not that many people can play their Saturn and Dreamcast at the same time anyway. You can of course swap the included external AC/DC PSU for any suitable alternative, including a fancy linear PSU if you really want to.
The heat is off
This neat little upgrade is a good solution to the overheating problems experienced by the Dreamcast. On the Saturn there seems to be less of a need for a replacement PSU but if you do need one the Pico performs admirably. Even if you don't have an optical drive emulator in your console, the PicoPSU is still more than capable of providing enough juice for an optical drive too. Use a PicoPSU as a replacement PSU for an import system to avoid the use of a step down, or simply to replace a hard to find original Sega Saturn or Dreamcast power supply unit. Either way, the Pico will perform well, it is just a shame about yet another power brick in your setup.