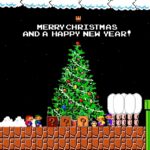 Christmas is rapidly approaching again and that means you need to get your orders in quickly if you want to make sure your VideoGamePerfection.com goodies are under the tree in time for the big day. As always, Royal Mail have issued us with some last recommended posting dates for various destinations around the world. You will need to order on or before these dates to make sure you get your parcel in time. 
United Kingdom customers have until Saturday 22 December as long as they use Special Delivery, but for the rest of the world, it looks like this:-
| | | |
| --- | --- | --- |
| Tue | 4 December | Africa, Middle East |
| Fri | 7 December | Cyprus, Malta, Asia, Far East, Eastern Europe (except Poland, Czech Republic and Slovakia) |
| Sat | 8 December | Caribbean, Central and South America |
| Mon | 10 December | Greece, Turkey, Australia, New Zealand |
| Fri | 14 December | Canada, Czech Republic, Italy, Poland and USA |
| Sat | 15 December | Finland, Sweden |
| Mon | 17 December | Austria, Denmark, Germany, Iceland, Netherlands, Norway, Portugal, Slovakia, Spain, Switzerland |
| Tue | 18 December | Belgium, France, Ireland, Luxembourg |
We are very much aware that this means some of you will miss out on an OSSC due to the current stock problems with remotes. If you desperately need one, please contact us here and we can send one by courier when the remotes finally arrive. 
Customers in Canada – The post is currently very unpredictable in Canada due to a strike, if you need us to courier you an item, please contact us here.