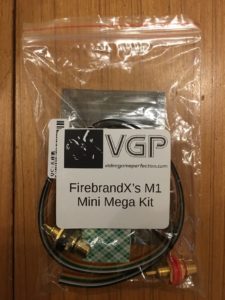 Today we're pleased to announce our first cooperation with the one and only FirebrandX. Those of you who follow the retro gaming scene should recognise the name, FirebrandX has created the "pixel perfect" profiles for the XRGB Mini and also the optimal timings for the OSSC. More recently, he has turned his attention to designing hardware upgrades for classic consoles and has produced this amazing little audio bypass amp.  FirebrandX's attention to detail is almost legendary, nothing but perfect is good enough for this particular designer!
If you're looking for the absolute best audio bypass upgrade for your Mark 1 Genesis/Megadrive console then the M1 Mini Mega is the upgrade you need. Don't take our word for it of course, check out this audio file that has been specially recorded to compare the difference between a stock console and one upgraded with the M1 Mini Mega. The M1 Mini Mega will deliver sound quality the likes of which you never knew was possible from your original, genuine Megadrive hardware.
We currently have a small number of DIY kits available with more on the way, and plans to start the installation service early in the new year. Grab yourself a kit by clicking here.
More exciting new projects are on the way, so keep an eye on our home page or follow us on the usual social media channels.