Join us in this new series as we put into practise products from our store, knowledge from our how-to guides and the wider community and experience working with gaming setups, retro and modern, for many years. From the ground up we will be building a new games room in a spare bedroom, looking at how to get the most out of the available space and what gear we would recommend. 
Moving over to the Emerald Isle has given me the chance to design a whole new games room basically from the ground up. With a (semi) reasonable budget I am aiming to take full advantage of the space of a modest back bedroom and create a setup that will rival even those based in a more generous sized room. I will be documenting the journey as I go along, not for bragging rights (at least not exclusively, honest!) but more so that anyone else planning a build can hopefully be inspired and learn from my (hopefully infrequent) mistakes. I would also appreciate feedback from the community. I do not claim to know everything and if I make a mistake please do let me know in the comments.
First steps – Clearing the ground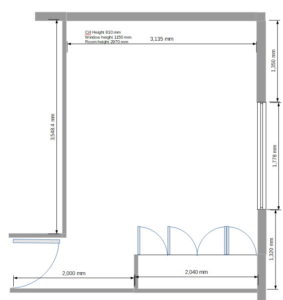 Before you start to plan anything it helps to have a floor plan of your room. If you don't have one, you can construct one easily using CAD software like LibreOffice Draw, which is available completely free. If you're really struggling with this you could ask for help. Luckily, as he worked in the building trade all his working life, my Dad was on hand to quickly draw up a floor plan for our particular room.
Having a plan like this in a CAD package, even a basic one, is so useful for planning what furniture you are going to buy. Whether you go for bespoke made or off the shelf units, you can quickly check sizes and fit using the scale plan and avoid any awkward instances of getting a new cabinet home only to find it doesn't fit in the space as expected.
To make a video games room, we're going to need power. Lucky for me in this particular room there were already four conveniently placed electrical sockets. Two at one end of the room and two at the other. While more would have been nice, this should be adequate with a power strip or two (or four or more). Experience has taught me there never seems to be enough plugs on your power strip, no matter how many you go for.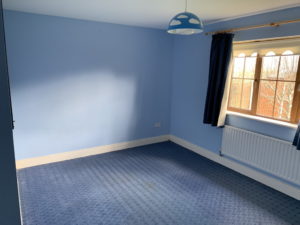 The next thing we need is an ethernet connection. Theoretically we could get away with using just Wi-Fi, but I tend to live by the rule that if you can get a wire into something, you should. There's also the issue that some of the older systems, like the original Xbox or PS2, can't easily connect to Wi-Fi. FTP access is particularly important for the original Xbox, since FTP is my preferred way of loading games onto the device.
As you might expect, there were no ethernet sockets already in the room, so that needed fixing. We decided to take the connection from the router in the living room up into the loft, where a 16 port gigabit switch would feed various network sockets in the games room, other bedrooms and the living room. Like I said, if you can get a cable to something, you should.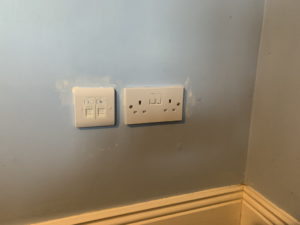 Electrical safety is important in a games room, especially one where inevitably we will be running long, daisy chained power strips and using older equipment. To that end we decided to hire an electrician to not only install the networking sockets but also give the wiring and the circuit breakers in the house a general check over. We contacted several electricians around the Carlow area, several said they weren't interested but two companies did eventually come out and quote us. In the end we went with Martin Phelan Electrical, who were super friendly and did the work to a great standard for a very reasonable price.
Since we were planning on occasionally watching old school, broadcast TV in this room too, we also hired a contractor to install both satellite and aerial connectors. Ireland has a free broadcast TV system called Saorview, which uses satellite to pick up most of the free-to-air UK TV channels and an antenna to pick up the Irish free-to-air. The selection available here is perfectly adequate for an occasional TV viewer like myself.
With the basics all in place, the next phase was to plan out some power distribution. Getting power to a big collection of retro consoles is an interesting challenge in itself and one we will take a look at in more detail in our next article.