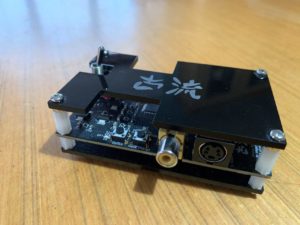 It has taken a while, but we are finally ready to announce that the Koryuu Composite and S-Video to Component transcoder has gone to manufacturing and will be available early 2020.
We had hoped to launch the unit sooner, but an unfortunate period saw the little device stuck in a kind of "development hell" with Ari, the designer, unable to figure out or fix a particular bug. In the end it transpired that our Sega Megadrive 2 console actually had a faulty Composite video encoder all along.
In case you missed the teaser announcement we made through RetroRGB, Koryuu is a Composite and S-Video to Component video transcoder designed specially for use with OSSC but suitable for all kinds of applications. Using the device you can easily add S-video and Composite input to the OSSC, or any display or device that has component video inputs.
The device has the following features:-
Designed for use with OSSC, no additional transcoder/converter required
Composite and S-Video in, Component video out
7.5 IRE option
PAL 60 supported
Firmware updatable (requires USB Asp or similar programmer)
Uses the same PSU as OSSC, no chance of mixing them up and damaging either unit!
Stylish case looks good next to or on top of the OSSC
Connect Composite and S-Video at the same time, no problems
Additional features, such as smoothing, to be confirmed
Want to be notified when Koryuu is available? No problem! We have set up a waiting list here. Simply complete the form and I will e-mail you as soon as there is a unit available to order.