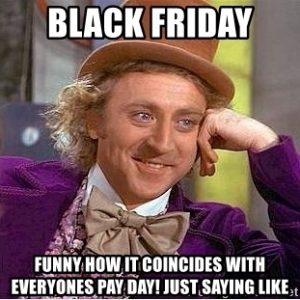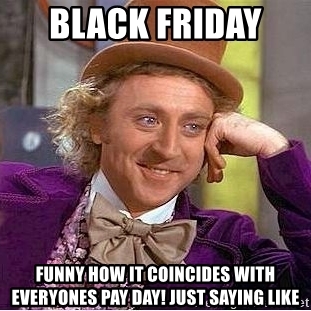 For Black Friday this year we're keeping it nice and simple. You can get 10% off everything and anything by using the coupon code black2020, which is valid from now until 1st December.
We normally run the sale just over the Black Friday weekend, but we're giving people a little longer this year. Due to Covid 19, all the couriers are expecting Black Friday and the run-up to Christmas to be even more manic than usual. Both An Post (Irish Post Office) and DHL are already experiencing huge demand and new winter lockdowns aren't making that any easier for them.
If you're planning on Christmas shopping with us, we strongly recommend buying your gifts early. An Post have already sent us their last posting dates and honestly they seem rather optimistic given how many packages we've seen that have been delayed. Get your orders in now during the sale, save money and make sure that Santa can definitely put them under the tree this year. Remember, if you need a package urgently you can use DHL which typically arrives in under a week to all destinations worldwide.
Customers in the United Kingdom – We want to stress that if you're in the UK then you should order as soon as possible. Not only is the UK affected by the pandemic, like everywhere else in the world, but we expect significant delays at the UK's border when the country leaves the EU Single Market and Customs Union on the 31st December this year. Furthermore, the UK government is changing the law around how VAT is collected on sales made outside of the United Kingdom. In order to sell into the UK post Brexit, we will need to VAT register within the UK, despite us being based in Ireland. This involves considerable extra cost and red tape for us.
While many small businesses have announced they simply won't export to the UK any more, the UK is still a big market for us and we're looking into how to best deal with this. Unfortunately, if we're not able to get any concrete answers before the 31st December we will have to temporarily stop accepting orders from UK residents until we can figure out the best way to proceed. Note that, unfortunately, Beta Gamma will no longer be able to accept console and retro computer repair or modification orders from the UK after November 2020. Again, we hope this is temporary but we cannot say for sure just yet. Warranty returns and replacements shouldn't be affected as these are not new sales and so would not have a VAT charge associated with them.
Finally, we expect to have some news on the OSSC Pro within the next few days, as another prototype PCB has just arrived with Markus. Follow us on social media (Facebook, Twitter or Tumblr) or just good old fashioned RSS for all the latest updates.