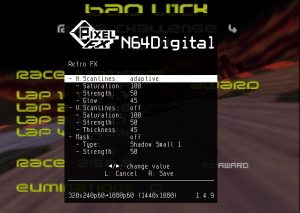 Just a heads up to let you know that we have a very small quantity of PixelFX N64 Digital (HDMI) upgrade boards available for customers looking for an installation service. These boards are in stock now at BetaGamma in Corfu, Greece.
N64 HDMI mods have always been the deluxe solution for playing N64 on a modern display and with the new PixelFX upgrade the results are better than ever. More flexible scaling, scanline options and less input lag than the older RetroActive solution, you simply cannot get a better picture from original N64 hardware.
If you're ready for the best an N64 can get, click here.
At €251 plus VAT and shipping for the board and installation, it is fair to say it is not the cheapest mod, but the results are phenomenal. I honestly never thought I'd enjoy original hardware N64 as much on a flat panel as I do on my CRT, but with this upgrade, PixelFX have proven me wrong. Whether you prefer razor sharp pixels or a more natural, softer CRT look, this mod has you covered. I've been enjoying N64 titles all afternoon and haven't had this much fun with the console in a long time. Besides, what else are you going to do with 251 Euros, buy a modern console? 🙂