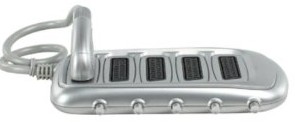 This often unbranded switch goes by several names, including "Nedis Silver Scart Switch Box 5 Way", "5 Way SCART Selector SLX Gold", "Professional 4 Way Scart Switching Box" and probably several others. The review here also applies to similar models with 3 or 4 inputs and/or phono/RCA connectors. Switches like this are easily identified by the black or silver case and push button switches. To select an input you press in the button, to deselect it you simply release the button. Like most other budget switches, output is via a moulded cable with a SCART plug on the end.
Brightness/noise test:- Failed. Significant noise added to the picture, picture significantly dimmed.
Isolation test:- Failed, deselected inputs were not isolated from current input at all.
Conclusion:- Cheap and nasty. Not suitable for videogamers or anyone concerned with picture quality.