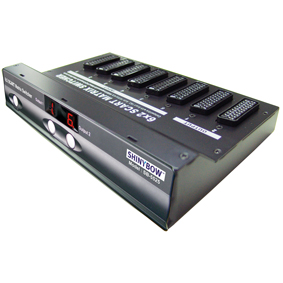 Big thanks to Srrae from the Sega Saturn UK forums for lending me one of these SCART switches to review. In the UK, Shinybow's switches are often re-branded and sold as Skytronic, though the hardware itself is the same, right down to the packaging, which simply has a yellow Skytronic sticker added to the side of the box.
The Shinybow switches have an excellent reputation around the web. The unit itself is constructed from sturdy metal and has a quality feel to it. The SCART plugs on the back of the unit are positioned vertically. This means the unit can look untidy when fully populated, but the sockets are well spaced, meaning no problems fitting fatter SCART cables/plugs next to each other. Switching between inputs is done either via a push button on the front, which cycles through the available inputs, or via a remote control. The unit has two SCART outputs, each output is independent and can be assigned to any of the six inputs. For instance, if you had a dual display setup you could route console 1 to TV 1 and console 2 to TV 2 through the Shinybow.
Brightness/noise test:- Failed, no noticeable brightness lost from picture but picture instability/wobble added, but ONLY on the Sega Megadrive (see below for more details).
Isolation test:- Passed, zero crosstalk from other inputs.
Given the units excellent reputation, it came as a little bit of a surprise that I had some issues with it. I normally test using the Sega Megadrive and the pack-a-punched SCART cable I reviewed here. In this setup, the Shinybow caused significant picture instability. There was a noticeable wobble to the picture. Strangely this was eliminated by switching back to a standard, composite video for sync SCART cable, but of course when using something like an XRGB3, the raw sync cable is essential. I also tested the Sega Saturn with a raw sync SCART cable and had no issues with that system, so the Megadrive seems to be an anomaly. Srrae also reported issues when using a Shinybow 4:2 switch with a Commodore Amiga computer (which has raw sync as standard).
Since we first reviewed the switch, it has become significantly harder to obtain too. They are still for sale on Shinybow's website here, but for an eye watering 161.33 Euros, plus shipping.
Conclusion:- A quality switch, but not without issues and at these prices rather too expensive. Go for the Keene SCART Commander if you can find it, unless you need the 2 way SCART outputs.
This switch has now been tested for picture quality using a capture card, click here to see how it performed.