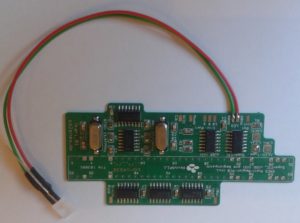 Just a quick update to let you know that the SuperCIC boards, for both 1 chip and multi-chip consoles have now been re-stocked. If you need to make your Super Nintendo/Super Famicom console region free, grab a board here.
We've also finally re-stocked the popular little Sync in SCART boards. These neat little PCBs fit inside a SCART cable and convert composite video into composite sync. They're ideal for those of you with Extron Crosspoint RGB switches, for example, that simply must have clean sync input. Much cheaper and more compact than buying an external sync cleaner such as the Sync Strike, you can grab one of these little boards here.
Next up we hope to re-stock our new RGB amps after a small design change. Keep an eye on our website or our social media feeds for more updates.