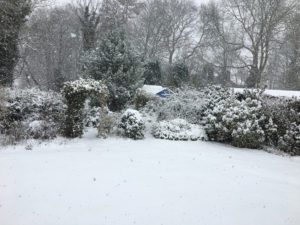 It's currently snowing here, well, not right this very minute, but it has been. Heavy snow is something of a novelty for this part of the world, where we're much more used to the weather just being rather "meh". Despite only being what many other European countries might consider a strong flurry, the postal system here in Lincoln has ground to a halt. While we dutifully delivered our customer orders to the post office today, the lovely ladies at the post office told me that it wouldn't be going anywhere as there were no collections.
Because of this, please be aware that if you order anything in our store, there may well be delays getting it shipped out. Even if we can get the orders to the post office, we can't guarantee that Royal Mail will actually collect them.
Fortunately the snow rarely lasts very long so with a bit of luck things will be back to normal again next week.