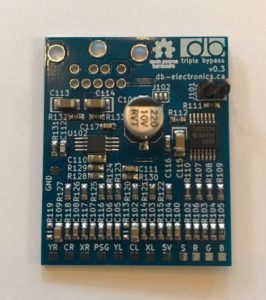 We are late to the party on this one, largely thanks to the move, but we have just added DB Electronics excellent Triple Bypass DIY kit to our catalogue. 
The Sega Megadrive/Genesis Triple Bypass board is a fantastic mod for your Megadrive/Genesis 2 or 3 console (or VA7 revision Megadrive 1) developed by retro console wizard DB Electronics. The board combines two popular modifications. Firstly, it is an RGB bypass mod with a THS7374 video amplifier which improves and updates the consoles RGB amplifier for the cleanest, crispest RGB possible. Secondly, the board also includes the popular "Mega Amp" mod to clean up the consoles often muddy audio. This can significantly improve the audio quality on many Megadrive 2 consoles which suffer from poor audio output. Now you can have perfect audio and video quality from your Megadrive 2 console!
To get your hands on this great little mod, click here. As always I'll work on getting a fitting service up and running too.
Sega fans with Megadrive 1 consoles might also be interested to know we've unpacked and re-stocked the RGB bypass amp boards. Click here if you need one of those.