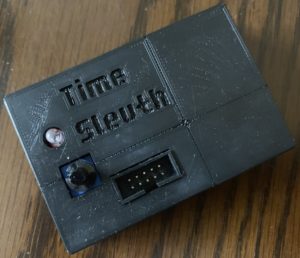 If you are building a new gaming setup or simply changing or evaluating an existing one, then knowing how much input lag or display lag your monitor or TV has is very useful. Input lag or display lag is the amount of time that it takes your television to display the image that is being sent to it from your games console, video processor, switch, splitter or other device. Input lag is bad news for gamers as it gives us less time to react to what's on screen.
Modern displays typically buffer or hold a few frames in order to run picture processing on them. Other devices, like upscalers or even HDMI splitters can sometimes add input lag themselves. You may not be able to notice input lag yourself, and you certainly couldn't estimate it with any degree of accuracy, but it can affect your gameplay without you even realising it. When you missed that jump, was that really down to your reactions, or were you doomed to fail because your HDTV simply has too much input lag?
Now, there's a new way to accurately measure input lag on almost any display. Enter the Time Sleuth from Black Dog Technology, the same folks that brought you GCDual and WiiDual.
Time Sleuth is a HDMI input lag or display lag testing device. The device allows users to measure the input lag inherent in any flat screen display. It can be used for evaluating displays and entire setups, including video processors and home theatre systems. It connects to any modern display using a HDMI cable or to older displays using a suitable adapter.
Being able to accurately measure input lag has a huge number of uses. You can evaluate your own gaming setup, or, by buying a USB power bank, evaluate a display in a show room before parting with your money. For AV professionals building setups for competitions, speed running or exhibition, Time Sleuth finally allows you to test the entire video chain for display lag, putting competitors minds at ease. For games like Rock Band or DJ Hero, Time Sleuth can be used to accurately calibrate the software to compensate for display lag, making gameplay much more accurate. Time Sleuth can also be used for calibrating AV lip-sync delay in setups where automatic calibration systems like ARC are not available or do not work properly.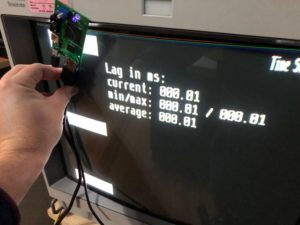 Time Sleuth isn't the first such device to come on the market. The very first input lag testers used high speed cameras and CRT televisions to compare still images. Of course, CRT televisions are notorious for being big and bulky and hard to transport, but for some time this was the only way to measure input lag. The first convenient input lag tester was created by Leo Bodnar and this has been the device that gamers have been using since its release. We reviewed this device back in 2013 and, while it is a great little device, it did have some shortcomings. In order to use the device the user had to press and hold a button, this was uncomfortable and quite easy to let go of while taking a reading. The tester struggled to produce a picture on many displays and, crucially, it could only test one resolution.
Time Sleuth not only improves on the general design of Leo's lag tester, but includes 5 different resolutions, which you can select by turning a dial. By default these are 480i, 480p, 720p, 1080i and 1080p. This means Time Sleuth is the first lag tester that can accurately tell you how much lag your display has while deinterlacing. You can even create new custom firmware with different resolutions if you desire. This can then be flashed to the unit by using a JTAG programmer.
Time Sleuth is an essential tool for the AV professional and can now be purchased from our store by clicking this link. All our Time Sleuth devices come complete with 3D printed plastic case and can be purchased with or without a power supply.