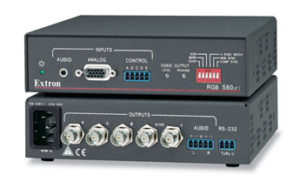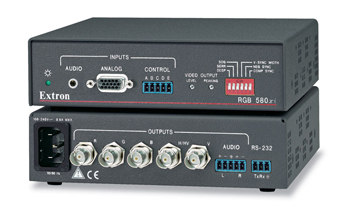 Some years ago now, Tobias Reich (Fudoh) wrote an excellent page about down-scaling content to 240p, which can be found here.
In the latter part of that page, Fudoh talks about Extron RGB interfaces. These little sync processing boxes have all kinds of potential uses in a retro gaming setup, but one use that always seems to confuse people is the undocumented 480i to 240p conversion trick.
In a nutshell, by some quirk of their design, the Extron interfaces can convert an incoming 480i signal to 240p by the flick of a dip switch. It almost sounds too good to be true and indeed, there are some caveats. The trick only works on classic CRT monitors. HD CRTs, CRTs with their own signal processing or any kind of external upscaler or line doubler isn't going to be compatible with this method.
Several people have reported they have tried this trick with their classic CRT displays and got it working, while almost as many say it doesn't work at all for them. Having recently acquired a CRT we decided to give it a go for ourselves. We hooked up an Extron 203RXI RGB interface between our PS2 and a Mitsubishi Megaview CRT. Starting the PS2 in interlace mode we loaded the PS2 port of Espgaluda. Once the game was loaded we reached for the DDSP switch on the Extron and flipped it down.
Rather than a lovely 240p progressive image, our CRT showed a picture full of digital garbage. You could just about tell it was Espgaluda, but it wasn't at all playable and certainly not what we were expecting.
Undeterred, we decided to try some different models of Extron Interface and we did eventually find one that worked with this trick, the Extron 580xi. With the 580xi we got a great 240p image complete with scanlines, just as promised.
In summary, if you want to convert 480i to 240p on your classic CRT monitor or television, look for an Extron 580xi RGB interface and avoid the 203rxi and 109xi models. The 203rxi models do have a lot of internal jumpers which can be configured by removing the units case so it is possible that a certain configuration would work for this trick. If anyone is aware of how to configure the 203rxi or other interfaces for this purpose, please let us know in the comments.