Bleak political outlook aside, things look pretty good for gamers living in the UK right now. We have the National Videogame Arcade in Nottingham, the Retro Computer Museum in Leicester (still on our bucket list) and of course, Arcade Club in Manchester. Promising to be "Europe's largest free play video and pinball arcade", is Arcade Club really the reincarnation of the 80's seaside paradise from your childhood?
Located hidden away on an industrial estate in Bury, Manchester, Arcade Club isn't much to look at from the outside, resembling nothing more than a simple industrial unit from its exterior. Make your way inside and past the ticket office however and things soon change. Spread over two packed floors, the venue features classic arcade cabinets, pinball, Bemani/rhythm action games, games consoles and virtual reality. Arcade Club really does have something for everyone from the hardcore gamer to the casual player.
Level upper
If you are a child of the 80's, like me, you will remember how arcades in the UK used to be. Row upon row of video cabinets with more games than you could ever play with your holiday pocket money. Every year there would be a new title, with flashier graphics or, as was increasingly the case in the 90s, more extravagant and expensive cabinets. Back then, we never imagined there would be a time when the arcades would wither and decline. Stepping into the upper floor of Arcade Club is like stepping back in time to those halcyon days of the 80s, minus the clouds of cigarette smoke and crucially, the need to have your pants weighed down by a fivers worth of ten pence pieces.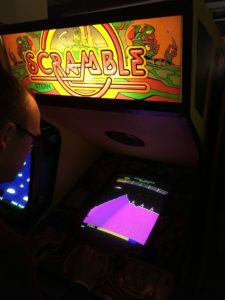 Every machine on every floor in Arcade Club is on free play. Pay your entrance fee (£15 for both floors) and you can play as much as you like. Undoubtedly this is a good idea, although at busy times it can make for some waiting times for playing the more popular games. We visited during a busy Saturday afternoon/evening period and the only real limiting factor was simply running out of time to play everything. Free from the financial burden of actually having to pay per game, it is tempting to simply 'credit feed' through many titles. Games like Atari's Gauntlet simply don't have the same level of intensity and urgency on free play. On the other hand, with no coin to invest every time you play, there's no reason not to try out any of the games simply because they look too difficult or confusing either. 
It was great to see people of all ages and genders find games they enjoyed in the classics section. Video games may have come a long way since the 1980s but classic gameplay is timeless and this is proven by the success of games like Crossy Road or Bubble Witch Saga on mobile, both re-imaginings of games that first saw release in the arcades.
Level down 
On the lower floor of Arcade Club there were a number of cabinets, including a large number of Bemani/Rhythm action games, but this floor offered something a little different too. There was the chance to play super big screen Mario Kart, a plethora of PC multiplayer games on the LAN and the chance to sample several virtual reality games. This floor also had a cafe and a fully licensed bar area, as well as a stage where live bands and other shows can perform. Probably our only complaint here was a lack of seating for the cafe, though of course the more seating you have here, the less gaming hardware you can fit in.
If you love a little silver ball action there's also a fine selection of pinball tables on offer, including Party Zone, Elvira and Star Trek. Heck, there's even a couple of free pool tables if you really want to go old school.
The lower floor also had a small selection of classic consoles, though we're reliably informed that another floor is coming in the future, where classic consoles will feature more predominantly. Expect to see a few of our beloved OSSCs featuring in this project too. Keep an eye on Arcade Club's website for more information as and when it happens.
Maintaining your fun
One of the often disappointing things about British arcades, both then and now, is the obvious lack of maintenance that so many machines exhibit. Our most recent visits to both Thorpe Park and Alton Towers theme parks in the UK were blighted by this, with almost every arcade game we tried having some kind of fault. Arcade club is different, it's clear that the owners and staff love their games as much as the punters do. Virtually every game we tried worked perfectly. Steering wheels were calibrated and had working force feedback, speakers spoke, buttons responded and for the vast majority of the games everything worked as it should. Getting the chance to play the original Outrun on its deluxe cabinet, with everything working perfectly was a real treat.
Arcade club really does have something for everyone. Our band of thrill seekers arrived at the venue around mid afternoon and left just after closing time at 11PM, having still not tried everything we intended to. For younger players there are networked PCs dedicated to Minecraft. For more casual gamers there are games like Pac Man Battle Royale, Mario Kart, Monkey Ball and of course the Bemani games. For gamers and 80's kids it's obviously nirvana. Arcade Club is the best gaming experience in the UK that we've ever seen and an essential visit for all UK gamers.