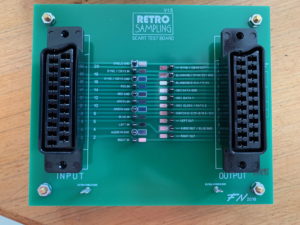 Today we are pleased to announce two new products have been added to our store.
First of all, the CPS2 Digital modification is now available to anyone and everyone. As expected, we cleared the waiting list of orders with this new batch and now we can offer the part for general sale on our store.
If you haven't been keeping up with the project, the CPS2 digital allows you to add an HDMI output to your classic CPS2 or CPS3 arcade hardware. The mod is lag free and supports 1080p (and 1200p in a future update). Click here if you want to read more about it.
We have CPS2 digital kits in stock for both DIY customers and for those of you that require a fitting service.
Secondly, we are pleased to announce that we are now stocking the Retro Sampling SCART tester board. This handy device makes it really easy to test your SCART cables and RGB SCART outputting equipment. If you regularly watch the excellent RetroRGB podcast, you will know about badly configured hardware causing damage your equipment by supplying too much voltage. 
Using the SCART tester board it's super easy to check voltage and resistance on your SCART cable to make sure it's suitable for connecting to other equipment such as vintage televisions or of course the OSSC. Check it out by clicking here.
We are not finished either and there are several exciting products in development behind the scenes, so check back regularly or follow us on any of the popular social media channels (or Tumblr 🙂 )